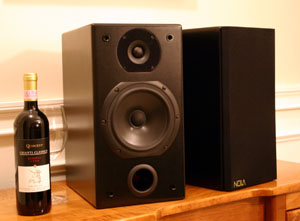 The Mini is a mini-monitor system that provides excellent performance and great value in both 2-channel audio and multi-channel cinema systems.
A newly developed molded 6½-inch bass/midrange driver operates in a generous 16-liter front-ported enclosure for excellent bass response. Sophisticated voice coil technology is employed to reduce distortion while increasing power handling. An improved 1-inch diameter silk soft dome tweeter is employed to smoothly extend high-frequency response beyond 20kHz. The response profile of the Mini is extremely linear - producing 60-20kHz, + or - 2½ dB. Response is only -5 dB at 55 Hz. This extended response allows the Mini to provide essentially full-range response when used alone, or provides for easy integration with a subwoofer, such as the T Bolt II, to further extend response to 20 Hz. Both drivers are also magnetically shielded for use in close proximity to video systems.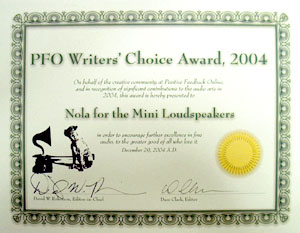 The Mini utilizes a newly developed crossover topology for improved bass reproduction, dynamic range, image focus and clarity. The new topology was first applied to the state of the art Grand Reference System. The considerable benefits of the system, even when applied to a "modest" loudspeaker such as the Mini, include enhanced image focus and dimensionality, greater dynamic range and greatly improved harmonic delineation. Interestingly, bass instruments that were "buried in the mix" with older versions now stand clearly revealed. In addition, the Mini utilizes a new tweeter for higher resolution.
Only quality components, such as air core inductors and polypropylene film capacitors, are utilized in the hand-wired, point-to-point crossover. Despite the popular price point, the Mini allows long, fatigue-free listening sessions, in common with the more costly Nola loudspeakers. The Mini cabinet employs a proprietary, high-tech black finish, and is constructed of high-quality medium density fiberboard. Corners are rounded for reduced diffraction. Other optional colors are available.

Specifications

System: 2-Way, front ported, mini-monitor
Impedance: 8 nom./ 6 min.
Response: 55Hz to 20kHz
Sensitivity: 88 dB
Bass driver: 6 1/2" dia. treated paper cone / magnetically shielded

HF driver: 1" dia. silk, soft dome / magnetically shielded
Dimensions: 8 1/4" W x 15 1/2" H x 11 3/4" D
Finish: Solid Black w/ black cloth


Specifications subject to change without notice.

Link to this page