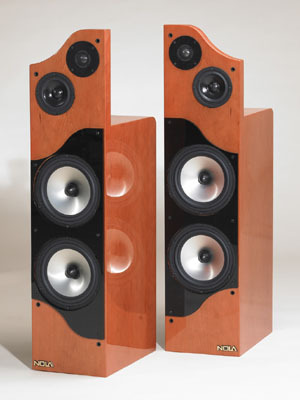 Nola's Viper line of open baffle speakers has been upgraded for improved performance and fit and finish. The Viper IIA is an upgraded version of the Viper II.
The Viper IIA uses two newly designed 220mm cast-frame bass drivers with aluminum cones. These bass drivers operate in perfect piston mode over their whole operating range. The first breakup mode is at 5000 Hz while in the system; the woofer is operated to only 500 Hz. This performance greatly reduces distortion and coloration throughout the full range. Each bass driver is mounted in a separate sealed chamber. Each chamber is a different size in order to provide an improved speed-bandwidth product and a smoother room LF response. The dual woofers provide improved room loading throughout the lower midrange and mid-bass with increased power handling. Both woofers are run in parallel for maximum amplifier control. These bass drivers are "trickle down" versions of the cast magnesium units used in the Nola Grand Reference.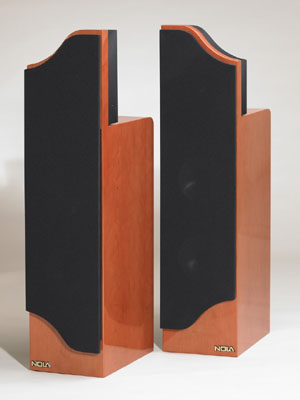 All of the loudspeakers in the Viper series feature open baffle midrange and high frequency transducers that are deployed in a 45 degree mirror-imaged array (the same as the Grand Reference) to provide more realistic image sizes while retaining excellent image focus. The new midrange driver, originally developed for Pegasus, features a cast frame, tri-laminate 110mm cone driven by a premium Alnico magnet system for a natural reproduction of mid-band frequencies which cannot be duplicated when using conventional magnets.

The high frequency transducer is a 25mm magnesium / aluminum dipole dome driver. The dipole dome sounds much more natural as opposed to using a separate tweeter mounted in the rear. The dipole rear wave is coherent with the front wave since the same diaphragm generates it.

All Viper models feature removable front and rear grilles that allow the Viper the most open sound, completely free of obstructions for the midrange and tweeter.

All Viper models now use black high gloss, solid acrylic sub baffles to stiffen and further damp the main front baffle. Drivers are mounted with machine screws and threaded inserts in the cabinet.

Click here for connection and setup instructions.

Specifications

Response: 35 Hz to 25000 Hz
Low Frequency: Twin cast-frame aluminum 220mm bass drivers, sealed system
Mid Frequency: 110mm tri-laminate cone with Alnico magnet, open-baffle dipole
High Frequency: 25mm dome, open-baffle dipole

Crossover: Internal bi-wire
Impedance: 8 ohm nominal, 4 ohm minimum
Power: 10 watts or more
Dimensions: 40"H x 10"W x 15"D
Finish: Piano Cherry (standard)


Specifications subject to change without notice.

Link to this page