Nola Speakers Boxer 2 loudspeakers review
My Munich High-End Audio experience still lingers on as it is closely connected with Nola Speakers setup and subsequently with Boxer loudspeakers being reviewed here. Nola Speakers show room presented one of the most stressless and natural presentation for such hard demo conditions. When I stepped into their room, familiar jazz and classical music was played from analog tapes. Mesmerizing! In the abundance of forceful, stress out sounding systems state of musical relief hit me. Most positive surprise of the show worthy of another mentioning. My friend who also later on listened, have put them on the short list of most wanted.
When our corespondency with Nola Speakers led to test and review organizing through the Nola Speakers German distributor I was enthused to get more intimate with their creations. We agreed to start with small monitors from their Boxer series. And here we go...
MEET THE BOXER 2
Nola Speakers Boxer 2 is a two way monitor with bass reflex mounted on the rear side. It incorporates 6Ĺ inch low mass bass/midrange driver for increased mid-band transparency and its specificated to extended down to 39 Hz. Upper range task is dedicated to high resolution silk dome tweeter. This strictly selected tweeter has extended response to 28 kHz, implementing dedicated diffraction ring which ensure cleaner high frequency spectrum response.
Bass driver is loaded by a rear mounted twin-flared port for low distortion and noise. As with all Nola Speakers the utmost attention is given to mid range. Still, with new driver and acoustical design lower register response is now specified to go down to 39Hz in order to ensure the fuller bass impact and fuller sound performance.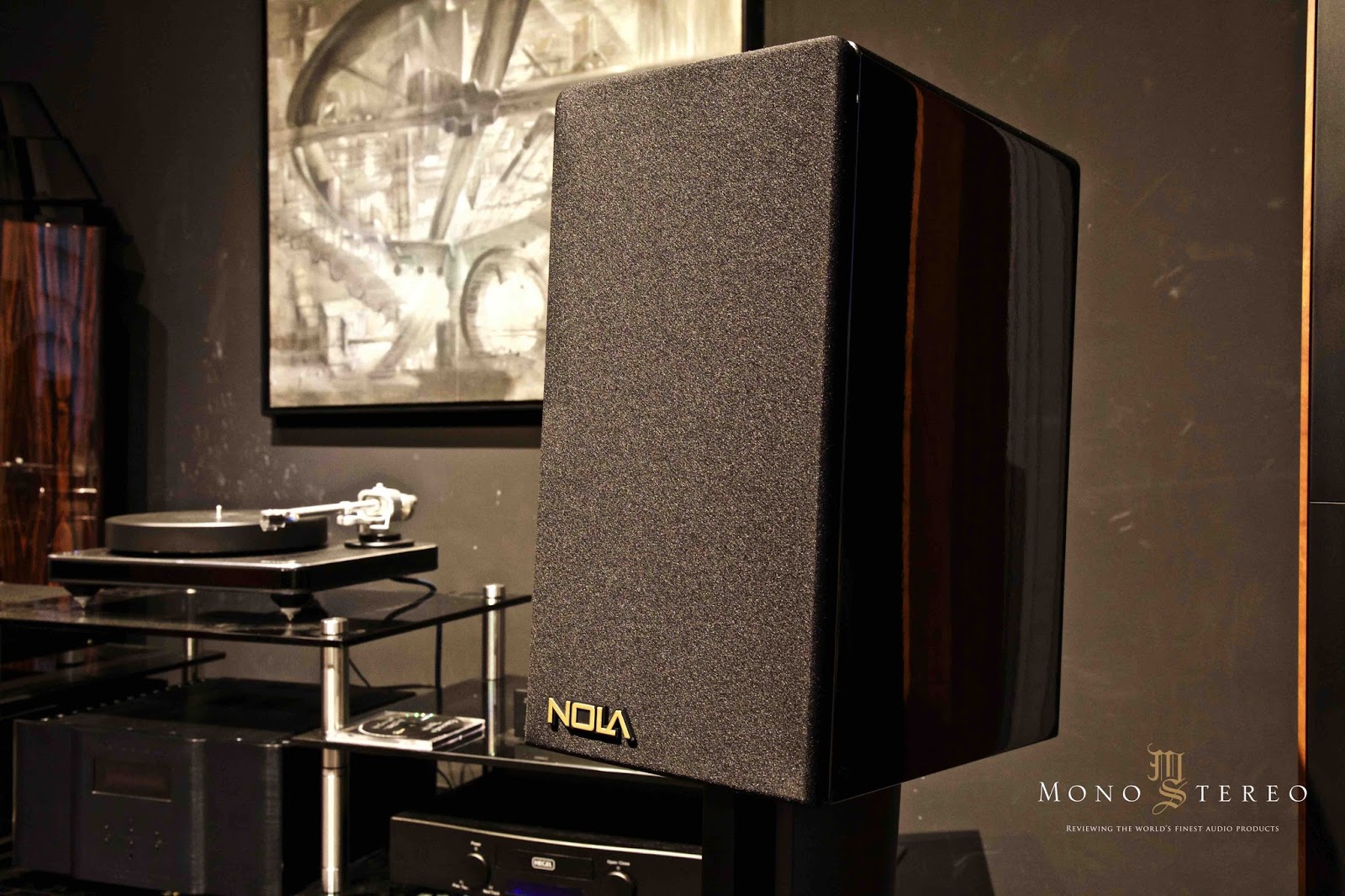 A pair of all-metal gold-plated binding posts firmly fixed on the cabinet accepts spade and banana connections. In this way the possible, unwanted resonances are driven to a minimum affectedness.

Crossover follows shallow slope design with excellent phase characteristics. Innards of the speakers enclosure reveals point-to-point hand wiring and a careful selection of high quality components:
high purity film polypropylene capacitors
zero distortion air core inductors
resistors of close tolerance 2% metal types
proprietary low-loss oxygen-free copper internal wiring
crossover shock isolation
Boxer 2 spots 90 dB sensitivity and 8 ohm easy to drive impedance.
SMALL MONITORS
For over two three decades now, I always had a soft spot for the small monitor speakers. There are many instant advantages when it comes to this particular sized and designed speakers. Surely, not all are in the same league and of same potency, yet when designed properly, sound performance is engaging, room problems are less imposing. As such they are easier to integrate, direct "golden triangle" listening ring can be instantly established and more modest powered amplifiers comes in to the loop.
Smaller monitors can offer much more intimate experience with lot less headache. As a fact many audiophiles and music lover do not own large listening rooms and in such condition monitors are quicker and much more preferable solution. Sadly many people are trying to "squeeze" bigger speakers where they simply wonít work.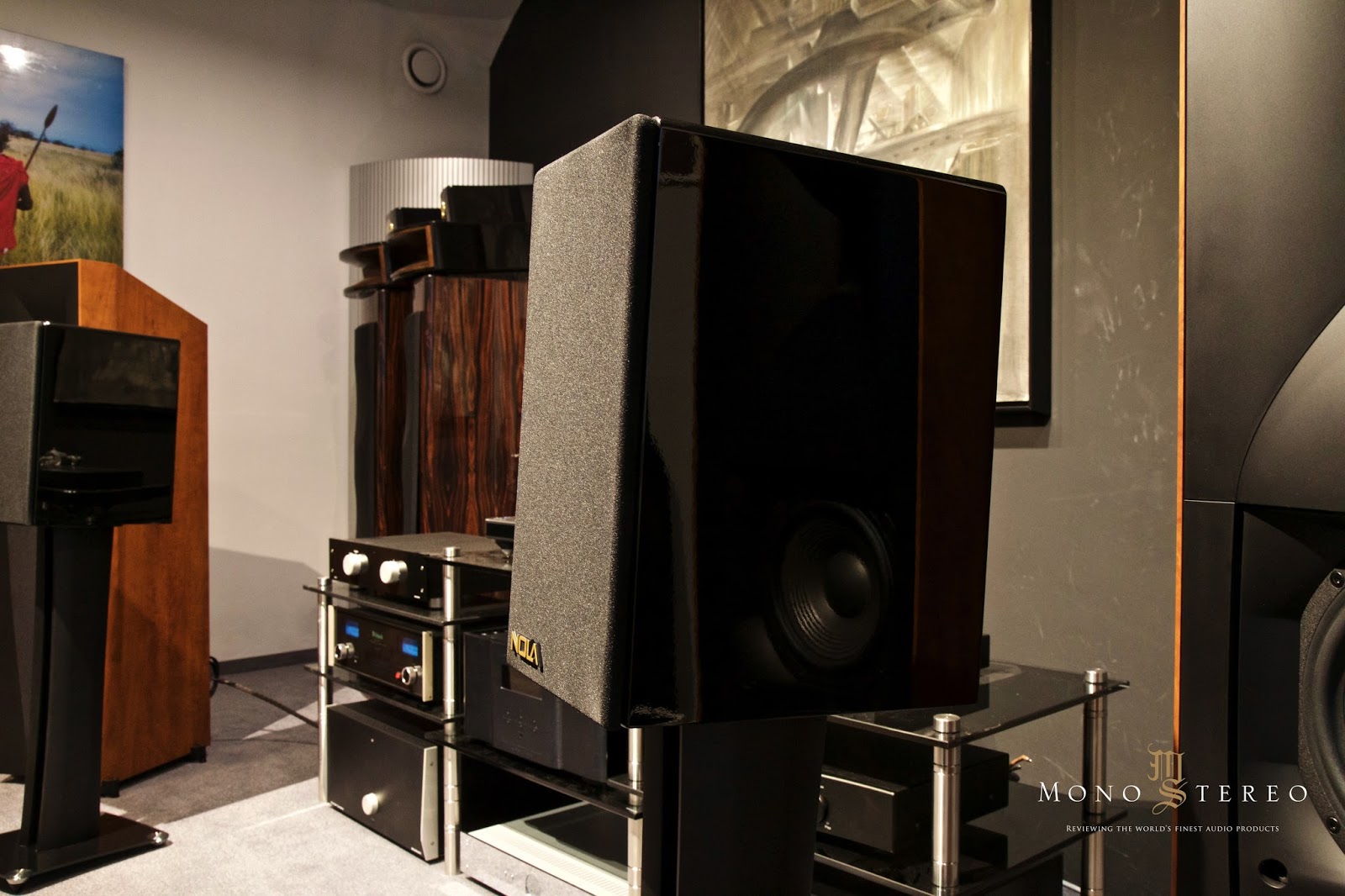 Properly design ensures much less headache and less dealing with room acoustics. With increasing fast forward pace time became a most precious luxury and best possible integration helps immensely with enjoying the music without painstaking setting up.

PERFORMING

Nola Speakers Boxer 2 enthused me very quickly and revealed a lot of renowned and recognized in-house sound. Its not easy to trickle down the technology from the brandsís bigger brothers, but Boxer 2 involving factor was spot on.

With the establishment of the mandatory level of focus points, needed for a certain level of realism, music become live and extends to the listener. Boxer 2 of course cannot explore submarine bass depths, but locks firmly with bass notes and with palpable presentation. Double bass energy in live small club concert is never aggressive or of giant pressures. It resolves in multitude of energetic particles, traveling with their phase shift directness information towards the listener. Its intriguingly "quiet". Replicating it over a speaker in no slouch task. Especially within the smaller sized box everything must me taken to account and demands skillful progenitor. Boxer 2 managed to encapsulate double bass very nicely, embracing the needed energetic impact to the point of needed potency.
Its debatable, to what extend sound atmosphere complexity recreation is possible with smaller speakers compared to the flor-standers. Each design carry their own pluses and minuses and do respond to the specific acoustical setting and room size. Both designs are utmost prone to focus or anchor points.

Focus points are not only vital for the atmospheric energy reviving. They are cornerstones for the spatial, three dimensional portraying illusion and actual anchor points of sonic imagery. Getting realistic three dimensionality out of such small speaker is not an easy task. More of a David vs Goliath analogy and Sisyphus quest. Intriguingly Nola Boxer 2 shine exactly in this regard. Sense of reality and scaling was far from expected from such small scaled loudspeakers. Nola Boxer 2 produced very believable soundstage proportions driven by a properly matching amplifier.
With right tonality, tone and timbre of music and especially of acoustical instruments we can instantly relate to our reference impressions. Sound will capture your attention instantly. Boxer 2 addressed this in only right direction even with multitude of harmonics layers associated with small ensemble and orchestra.

MUSIC

As noted above, this small bookshelf Nola Speakers Boxer 2 instantly locks into the music with the careful selection of power or integrated amplifier.

Now to some music...

Alan Parson I Robot is both great album and song. One of the tracks, that really give a quick glimpse on the speaker spatial and imaging behavior. Alan is well known for his expertise with sound manipulation and quality. Analog synthesizers panning from left to right came out of box speakers with great disappearing act. Also the rawness of pure analog VCOís cuts through the songs with authority and clear focus. More then well done!

Donald Fagen Snowbound from Kamakirirad album objectively pushes ability of any speaker closely connecting with the rhythm and lower register layering. Bass and kick drum in this song expertly overlays at their close mixed frequency range, thus making it very hard to be really distinctive. Quickly everything down there is smitten and muddy without proper potency. Boxer 2 distinguished both instruments and cope with the rhythm without a problem. Throughout the whole song they never lost the drive and focus...

Katie Melua rendition of 1987 Blackís pop hit song appears as easy to reproduce. Up until Katieís voice and acoustical guitar is joined with drums, this might comes as an easy deal. When hi-hat, kick drum and snare kicks in, subtle complicity easily bring down even the big boys. Coping rhythmically with right flow needs a proper designed speaker. Period! Many dismiss less complex music as non reference material. Mistake! With same sonic material contemplation and with great audio "material" subtle differences are even more evident. Instantly. Boxer 2 portraying encompassed the captive presentation, resolving firmly with the pace. Similar track, Sealís Killer acoustical unplugged version offers similar insights. There is so much going on behind even at the beginning. Little, secret marimbaís nuances assembly creates a tuneful harmony. Surprisingly unmasked with Boxer 2.

Orchestral complexity rendition on small bookshelf? An illusion of illusion? There is always a grander or minimizing illusory rendition at play. Still, as an integral part of any classical music, energy conveying is of first and foremost importance in absence of any overused audiophile jargon. Concert goers are enriched with the certain impressions giving a quick recall memento and with critical judging its an instant merit.

With orchestra energy travels like a giant bubble. No separate stand out short intervals often trying to be unnaturally pin pointed with many of contemporary, so called state of the art monitor speakers. Each instrument has its own place in sonic momentum, yet never of propensities pushed forward as being popular advertised throughout reviews.

Symphony No. 9 in D Minor Op.125 via Carlo Maria Giulini conducting Berlin Philharmonic orchestra is a mighty performance encompassing great spirit of Ludwig van Beethoven. Energizing, inspiring and feather like musical flow is utterly engaging.

No slouch dynamic impact with Boxer 2. Timbre, tone and color lovingly following the roots of musicís primary factors created sublime curated presentation of Berlin Philharmonic orchestra, sounding convincing, with believable presence and distortion free energy flow.

Inexperienced listener might not recognize the full scale nature of Boxer 2 at once. Especially, with orchestra performance. Little mighty Nola monitor speakers were never expectedly restrained, but surprisingly refined and involving. Do note, that I was driving these little might boxes with my reference electronics. If the positive stress of capability is morphed with best stuff available only then the product under the test will show the real ability to perform. Why needed? For any future upgrades this is a must. Once invested in great pair of speakers like Boxer 2, future amplification upgrades are justified if you know what to expect when moving up on the ladder and having the luxury documented possibility of actual upgrade path being worthy of pursuing.

So how does Boxer 2 perform on the amplification levels below the Uber audio electronics? Crayon Audio CIA integrated combo was more then well driven and involving. Not on the level of Analog Domain M75 integrated amplifier, but still mighty potent. Well, its 19.000 EUR difference... It was great to compare the two and practically lay down the magnitude impact of performances shift from two different amps. On both levels sound performance brought involvement, musical impact, just the level of details, flow and sense of ambience was of different league.

CONCLUSION

As told many times before. I do like and love when technical "homework" is being done and product is properly executed. In the era of mass market pollution of strictly money making oriented products born out of CAD designs and in most cases even without proper listening/vocing time, Nola Speaker Boxer 2 speakers play different, tuneful melody.

Great pair of mini monitors can lay down very inspiring music performance and Boxer 2 speakers prove that point spot on. With smaller loudspeakers some drawbacks are mandatory comparing to the larger floor-standers, yet in a smaller room, great monitor speakers can compellingly narrate the musical message sometimes even more potently and in absence of many problems related with the bigger brothers.
Boxer 2 surprisingly and impressively for it size resolved with large scale and with prolonged soundstage.

As discussed above, so called acoustical lenses needs certain amount of anchor points in creating the focus, which determines the the dimensional projection of believable realism. Nola Speakers Boxer 2 loudspeakers evoked cheerful sentiments and locked firmly into the music. They can take you away onto listening journey with ease to the place where time and space becomes of lesser importance and music is primary determine factor.
Hours of undisrupted musical listening speaks for itself granted by my listening notes. Boxer 2 are self promoting without grand pressure of fatigue.
Nola Speakers Boxer 2 loudspeakers focuses more closely on the composition and musical message rather then nonsense hipster unrealistic bling sound. I was instantly reminded of renowned, similar involving positive nature of brand speakers. Nola team managed to trickle down quite an aura of the brandís bigger brothers DNA, all expertly encompassed in an involving, welcoming reproduction of music with a straight musical kick in. A true Boxer indeed... Well deserving Mono & Stereo Best Buy award.

Text: Matej Isak
Price: EU1850
SPECIFICATIONS
Dimensions: 15.5 inches H x 8 inches W x 11.5 inches D
Bass / Midrange: 6Ĺ-inch low mass high speed
High Frequency: 1 inch high-resolution silk dome
Response: 39 Hz to 28 kHz
Sensitivity: 90 dB
Impedance: 8 ohms
Finish: True high gloss Piano Cherry or Piano Black
CONTACT
German distributor:
Mythical Audio International
Mainzer LandstraŖe 158
D-60327 Frankfurt a. M.
Tel.: +49 (0) 69-739 416 85 und 739 416 86
Fax: +49 (0) 69-739 416 87
Mail: info@mythical-audio.com
Internet: www.mythical-audio.com
Manufacturer:
Accent Speaker Technology, Ltd.
1511 Lincoln Avenue
Holbrook, NY 11741
Phone: 631-738-2540
Fax: 631-738-2542
E-mail: General inquiries: info@NolaSpeakers.com
WEB: www.nolaspeakers.com