Le Festival Son et Image de Montréal 2005
Report by Rick Becker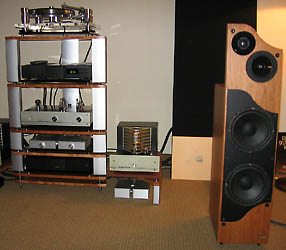 Brooklyn Audio was showing deHavilland electronics combined with Nola Viper Signature loudspeakers to produce yet another Best Rooms. The front end was a Naim disc player. The deHavilland preamplifier is $3500 US and the Aries 845G monoblocks are $7500 US including the tube cages and 845 tubes. I believe this was the first time I've heard the deHavilland products and one of the few that I've heard the Nola (Alon). The Viper Signatures were modest in size with a tasteful contemporary design that could cross over into traditional décor with a little decorating license. The Aries 845G exhibits a unique industrial, but architectural styling that should fit well in all but the most eloquent homes.