Floor Loudspeaker Reviews
Nola Contender loudspeaker
By Robert J. Reina -- January 2012

I've long been fascinated by Carl Marchisotto's speaker designs, first for Alón by Acarian Systems and currently for Accent Speaker Technology's Nola family of models. The Alón Circe has been my reference loudspeaker for over a decade, and it replaced my previous reference, the Alón V Mk.III. During my tenure at Stereophile I've also reviewed the Alón PW-1 woofer system (February 1997, Vol.20 No.2) and the Nola Mini speaker (January 2006, Vol.29 No.1), both now discontinued. In recent years, however, I hadn't paid much attention to Marchisotto's newer speakers, as he's focused on expensive designs featuring the Raven ribbon tweeter -- currently, four models ranging from $15,200 to $238,000/pair. Although I've been impressed with all of the Raven-tweeter models I've heard at shows, dealers, and audiophiles' homes, my taste over the years has leaned toward Marchisotto's simpler two- and three-way, all-dynamic designs.
So when, last year, Nola introduced the Boxer, a two-way dynamic bookshelf model ($1500/pair), I was intrigued. I was impressed when I heard it in a dealer's unfamiliar system, and my curiosity grew when Marchisotto announced that he was introducing a $3400/pair floorstanding speaker whose design had been "trickled up" from the Boxer's. As I'd recently had a positive experience reviewing a competing speaker, Linn's Majik 140 ($2995/pair), I thought I'd request a review sample of Nola's newest floorstanding, all-dynamic-driver model.
Design
The Nola Contender has three drive-units in a vertical array: a 1" silk-dome tweeter and two low-mass 6.5" polymer-cone bass drivers, these separated by almost the entirety of the speaker's remaining height. However, the speaker is a true three-way design, not a "2.5-way" design in which both a woofer and mid/woofer reproduce the bass frequencies. The upper 6.5" unit, mounted in a rear-ported enclosure separate from the lower unit's, is a true midrange driver. The woofer is loaded by a port that flares downward through the bottom of the cabinet, which is raised above the floor on four spikes (included). By providing a different tuning frequency for each port, these two "stagger-tuned" enclosures are intended to produce deeper bass response without sacrificing bass speed.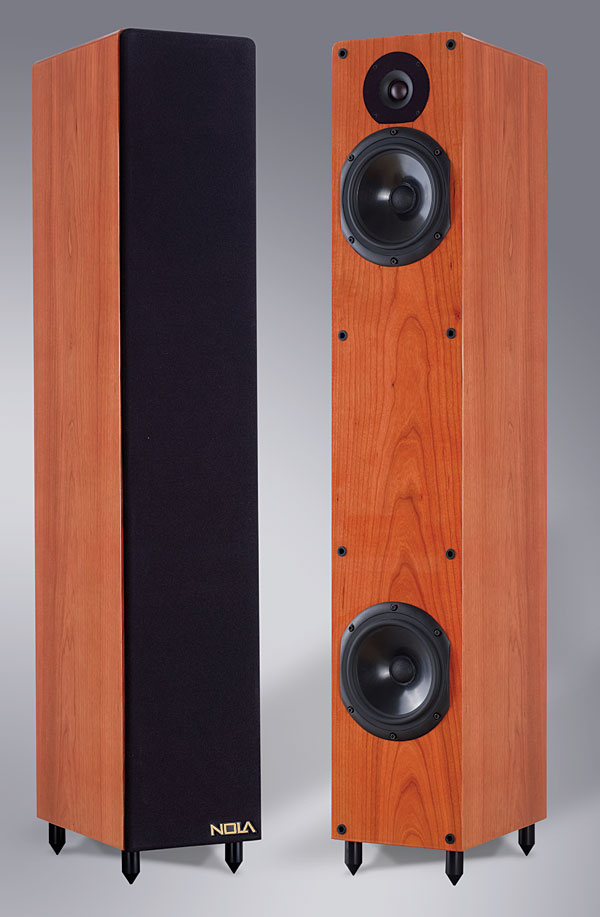 The Contender has two crossover boards: one each for the mid-high and low frequencies. This is claimed to improve clarity by reducing the vibration and magnetic interference between the crossover sections. Using the same driver for the bass and midrange sections permits the use of gentle slopes in the crossover, which, Nola claims, provides for better transient and phase response as the overlap between the drivers allows each to reinforce the other's output over a wide range. The Contender's crossover has the same Mundorf polypropylene 3%-tolerance, 630V capacitors and point-to-point wiring with Nordost monofilament as those in Nola's more expensive models. The Contender is available in a Piano Black or Piano Cherry finish. The Piano Black of my review samples was gorgeous, and the most mirror-like of any gloss-finish speaker I've seen.
The speaker has one set of terminals, for single-wiring. I tested the Contender with two sets of Marchisotto-designed speaker cables: Acarian Systems' Black Orpheus, the reference I normally use for most of my speaker testing, as well as a sample of Nola's own Accent Speaker Technology Blue Thunder. Marchisotto provided me with a "shotgunned" set of the biwire Blue Thunder cables, each end of which has a single set of spade lugs. My review comments reflect the use of both sets of cables. Both have natural timbres and good dynamic articulation; however, the Blue Thunder resolves a bit more detail, removing just one more veil between me and the music. Still, the Black Orpheus is revealing enough to let the Contender's capabilities come through.
Sound
Carl Marchisotto's speakers have always had a rich, luscious midrange, and the Contender was no exception. Joni Mitchell's entire vocal range in "Urge for Going," from her Hits (CD, Reprise 46326-2), was silky and holographic, and presented as a dramatic counterpoint to the pristine, extended harmonics of her Martin guitar. As the Contender's tweeter is the same as is used in the Boxer, Nola's least expensive bookshelf, I wasn't prepared for the high level of resolution, extension, and delicacy that this tweeter was capable of. I went right to my acid test for high frequencies, Mariko Senju's recording of Paganini's 24 Caprices for Solo Violin (CD, JVC JVCC-6504-2). The Contender reproduced a perfect balance of fundamentals and harmonics, from the bottom to the top of the instrument's range, with a near-perfect realization of the attack of Senju's bow on the strings. Steve Nelson's vibes solo in "Decision Point," from Jerome Harris's Rendezvous (CD, Stereophile STPH013-2), was shimmering, with perfect attack and a long decay that revealed the acoustic of the recording venue: Chad Kassem's Blue Heaven Studios.
All of the tracks on guitar iconoclast Derek Bailey's Improvisation (CD, Ampersand ampere2) were reproduced with every nuance intact, including the sustained upper harmonics of Bailey's unconventional plucking and chiming technique. On the electric front, the interaction of Thurston Moore and Lee Ranaldo's just-tuned Fender Jazzmaster guitars was very easy to discern; although the two guitars share similar tunings and timbres, the two parts are very individual and distinct. Liam Sillery's trumpet in "Tristan's Way," from his Priorité (CD, OA2 Records 22082), had the requisite bite in attacks, while the fundamentals of the instrument's lower register were bathed in a golden glow.
On the bass end of the spectrum, the interaction of Eberhard Weber's bass and Rainer Bråninghaus's bass synthesizer on Weber's Endless Days (CD, ECM 1748) created a big, bloomy, open, dynamic, airy sound, with a sense of thundering solidity and bottom-end anchor. A similar effect was achieved with the bass/synthesizer interaction in "Aurora," from Jon Hassell's Last Night the Moon Came Dropping Its Clothes in the Street (CD, ECM 2077), which created a solid but shuddering foundation for the airy, spacey music that follows. The organ-pedal notes in John Rutter's Requiem, from the recording by Timothy Seelig, the Turtle Creek Chorale, and the Women's Chorus of Dallas (CD, Reference RR-57CD), were clean, clear, and distinct throughout the pedalboard's range. And that recording really let the Contender show off its ability to render detail and ambience -- the layered voices of the choir were clearly delineated, and it was easy to imagine the size of the church.
When I want to listen to inner detail and air, I turn to any of drummer Jack DeJohnette's ECM recordings. Listening to "Welcome Blessing," from Oneness (CD, ECM 1637), I focused on every attack and decay of each percussion instrument in DeJohnette's opening duet with percussionist Don Alias. Then, when Michael Cain enters with airy piano arpeggios, the Contender reproduced the warm, woody timbres of his instrument's middle and lower registers with exceptionally long decays.
The Contender's ability to resolve details combined with its linear low-level dynamic capabilities to make the speaker a revealing transducer for well-recorded classical music. In Tomiko Kohjiba's Transmigration of the Soul, from the Santa Fe Chamber Music Festival's Festival (CD, Stereophile STPH007-2), the dynamic envelope of the two violinists' and the cellist's bowing was reproduced with all the requisite growl and a sense of rosin on the bows intact. In my piano introduction to "Sleeping Metronomes Lie," from my jazz quartet, Attention Screen's, Takes Flight at Yamaha (CD, Stereophile STPH021-2), the Contender's reproduction of the rich, woody midrange of the Yamaha AvantGrand piano and the dynamic articulations throughout that acoustic-electric instrument's range transported me back to the live performance.
Classical recordings also let the Contender demonstrate its superior ability to render transients without a trace of smear, sharpness, or edge. The more complex passages of the Allegro moderato of Rachmaninoff's Piano Sonata 1, in the recording by Robert Silverman (CD, Stereophile STPH019-2), were detailed and articulate, with no loss of information. The lightning-fast percussion in Orphée, from John Zorn's Mysterium (CD, Tzadik TZ8018), was reproduced with crystalline clarity, with all high-frequency harmonics intact.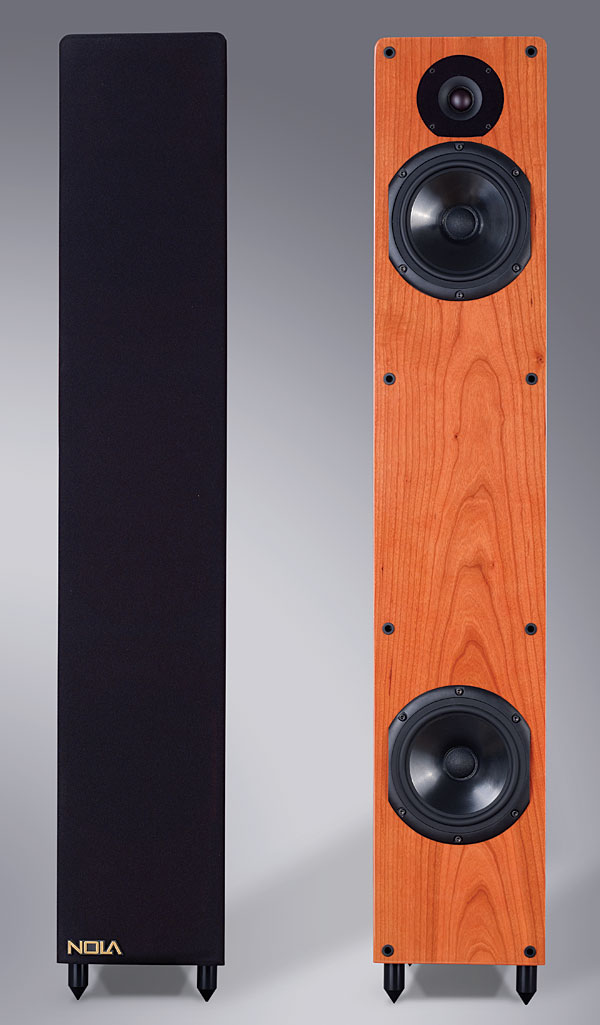 When I cranked up the Contenders for some boisterous rock music, they didn't disappoint in high-level passages. The bass and drums in the title track of Hole's Celebrity Skin (CD, DGCD-25164) slammed so hard I felt as if the music were kicking me in the chest. Similarly, the bass-synth figures in "Government Hooker," from Lady Gaga's Born This Way (CD, Streamline B0015373-02), were reproduced in their full dynamic envelope with no sense of bass rolloff, limiting, compression, or smear. The Contender did have some limitations in high-level dynamics, however. The fortissimos in the tutti passages of "Bluesville," from Count Basie's 88 Basie Street (CD, JVC XRCD-021), sounded natural, but I've heard them sound more boisterous through other speakers. And in the most rambunctious passages of Antal Dorati's reading of Stravinsky's The Firebird with the London Symphony (LP/CD, Mercury Living Presence SR-90226), near the conclusion of the work, though there was no sense of compression or strain, and despite the fact that the bass seemed extended and natural, I've heard the bass drums sound larger with other speakers.
Which brings me to the one major caveat I have about the Contender, one avoidable with judicious riding of the playback level. Carl Marchisotto has always tended to design speakers with an easy-to-drive impedance of 8 ohms. That said, the Contender was unusually sensitive, even for a Marchisotto design. Although the speaker is specified as having a sensitivity of 90dB, I tend to take such numbers with a grain of salt. But it was very clear to me that, with the Contenders, the volume knob on my reference system's preamplifier had to be set noticeably lower to achieve the same loudness than with the other speakers I have reviewed recently, including small bookshelf models. So even as I reveled in the Nola's detail resolution, bass extension, and wide dynamic range capability, it was easy to inadvertently play them at volume levels beyond where they were comfortable -- something that, in my very large listening room, I found myself often doing. At those times, I heard a compression in the midbass and an unnatural forwardness in the upper midrange; female singers seemed too forward, their sibilants exaggerated; Fender Stratocaster guitarists seemed to have accidentally hit the Bright switch on their Fender amps; and trumpet sections in orchestras got a touch screechy. But when I reduced the volume to a more normal but still quite loud level, the Contenders sounded natural.
Comparison
I didn't have on hand any other speakers directly comparable in price to the Nola Contender. It would have been interesting to compare it to the Linn Majik 140 ($2995/pair); it's similar in size and price, and I reviewed it in the June 2011 Stereophile (Vol.34 No.6). However, as I'd returned the Majiks to Linn before learning that review samples of the Contenders were available, I found myself intrigued by the prospect of comparing the Nolas to my Alón Circes.
Although the Circe cost $12,000/pair when last available (see Wes Phillips' review in May 1999), it is now a 14-year-old design. Carl Marchisotto has told me that his thinking on speaker design has changed dramatically since then -- he's moved from larger woofers to ones of lower mass and smaller diameter, to increase speed and dynamics. And the crossovers that Nola employs in their current designs represent an attempt to achieve a higher level of detail resolution and a broader, more linear dynamic performance than could be achieved by earlier Marchisotto designs. That said, the Circe has remained a revealing and musical speaker in my listening room for over a decade, and continues to be my reference.
The Contender and the Circe had similarly warm, inviting midranges, but the Nola had a greater sense of subtle, low-level dynamic articulation and nuance. In the midrange, the Circe also seemed a bit more veiled than the Contender, with less detail and transparency. However, the Alón had a sense of airiness and delicacy in the highs that went beyond what I heard from the Nola. At the bass end of the audioband, the Circe sounded deeper and more natural in the lowest regions, and with high-level dynamic passages there was a greater sense of slam and drama. In such passages the Circe had an effortless sense of ease, while the Contender dropped subtle hints that it was having to work too hard to reproduce the music's drama.
Finally, the Contenders and Circes provided very different perspectives, the difference most noticeable with classical orchestral recordings and women's voices. The Contenders had a more forward midrange perspective, the Circes a more relaxed, laid-back sound. Listening to the Contenders, I felt I was sitting more toward the front of the hall; with the Circes, I was closer to the rear of the hall.
Payoff
Accent Loudspeaker Technology has impressed me with the Nola Contender. It's not an easy task for a company to "trickle up" a design from their least expensive bookshelf model and in the process create a detailed, dynamic, natural-sounding speaker that is not only a bargain at its price, but in a number of areas betters an earlier $12,000/pair model from the same designer. It's refreshing to see a talented speaker designer put such serious effort into a product not geared for those with deep pockets. For those who hear the Nola Contender after not having heard a Carl Marchisotto design in a while, the choice may come down to only this: Piano Cherry or Piano Black?
Specifications:
Description: Three-way, reflex-loaded, floorstanding loudspeaker. Drive-units: 1" silk-dome tweeter, two 6.5" polymer-cone woofers. Crossover: three-way, built on two hand-wired boards. Frequency range: 35Hz-28kHz. Sensitivity: 90dB/2.83V/m. Nominal impedance: 8 ohms.
Dimensions: 44" (1130mm) H by 8" (205mm) W by 12" (305mm) D (including floor spikes). Weight: 50 lbs (22.7kg).
Finishes: True Piano Cherry, True Piano Black.
Serial Numbers Of Units Reviewed: 0143, 0144.
Price: $3400/pair.
Approximate number of dealers: 30.
Manufacturer: Accent Speaker Technology, Ltd., 1511 Lincoln Avenue, Holbrook, NY 11741. Tel: (631) 738-2540. Fax: (631) 738-2542. Web: www.nolaspeakers.com.