---


Issue 203 / June/July 2010

---
Nola Boxer: Whatever Nola Wants
By Neil Gader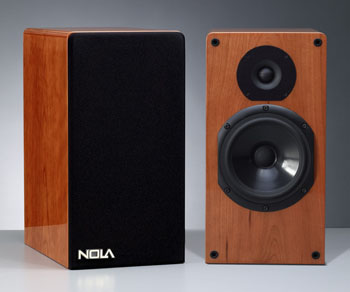 For high-end aficionados, Nola needs little introduction. Its open-baffle dipole designs, which include the Baby Grand and the majestic four-tower flagship, the Grand Reference IV.1, are the stuff of dreams for many of us. Music is reproduced on such a transparent and forceful scale that even the most jaded will listen with rapt attention. The good news for those just starting up in the high end is that veteran designer and Nola president Carl Marchisotto has an equally deft touch with small affordable speakers, as Nola's latest effort, the Boxer, clearly attests.

At barely fifteen inches tall the Boxer is an unassuming, blue-collar two-way compact in a bass-reflex enclosure -- it's also the only box speaker that Nola makes. The Boxer's loaded by a rear-firing twin-flared port for low distortion and noise. It incorporates a low-mass 6.5" bass/midrange driver with a laminated pulp cone. The high-frequency driver is a high-resolution silk dome tweeter. The crossover is a shallow-slope design using high-purity polypropylene caps, air-core inductors, and 2% metal-film resistors. It incorporates the same vibration-isolated, hand-wired crossover as Nola's bigger models and the same passive components used in Nola's $22,000 Metro Grand. It is assembled by hand with point-to-point wiring, using a proprietary low-loss oxygen-free copper wire.

The physical profile of the Boxer may be working class, but, oh my, does this baby play uptown. Its overall sonic character is unerringly musical, midrange-ripe with a fine balance of warmth and detail and the propulsive energy of a finely-honed athlete. Its presentation is not shy or recessed; its treble isn't brittle or fatiguing. There's substance to every octave with no energy suck outs. The result is a wide-range dynamic transducer that is always musically truthful. The soundstage is very large and open, yet has excellent focus. The Boxer also exhibits the moves you'd expect of a smart two-way -- vivid images, quick transient responses, and the kind of resolution I encountered on Lyle Lovett's "North Dakota" from Joshua Judges Roth [Curb], where the soft vocal harmonics and parallel melodic lines snapped into focus at even the lowest levels.

But what makes the Boxer so special is the extent to which Marchisotto has transported the qualities of his large-scale, open-baffle designs into such a petite box. There's much the same characteristic air and openness without any boxiness -- not surprising given Marchisotto's history of designing iconic dipole speakers for the likes of Dahlquist and Alon. For much of the Boxer's sonic excellence, the credit must go to its exemplary mid/upper bass, which was solid and tight and extended in my room. Unlike many compacts that can't punch their way out of paper bags, the Boxer has enough drive to recreate orchestral-style weight, soundstage cues, and concert-hall immersiveness. During the opening segment of Tchaikovsky's Violin Concerto in D Major with Anne Sophie-Mutter [DG], the Boxer immediately conveyed the way the orchestra wakes up the hall's acoustic. And during Jen Chapin's rendition of "Renewable" from ReVisions [Chesky], the Boxer punched outside of its weight class, reproducing the dueling baritone sax and standup bass with dynamic authenticity. It should be noted that the large port outputs a great deal of energy, so distance from the rear wall does require some experimentation.

Ultimately the Boxer, like every other speaker, has limits. When over-driven, the port's tuning will intrude and thicken the mix -- the lowest notes of cello or brass or plucked bass viols become less well defined, somewhat reducing timbral clarity and low-level decay.

Any major issues? Not really, and the trade-offs -- such as they are -- are honest and distributed with a subtlety that doesn't dampen the quality and intensity of the Boxer's overall performance. In the vocal ranges I noted a small presence-range droop, a hint of sibilance, and, as was to be expected, a bit of compression during high-octane flurries of percussion. During Glinka's The Lark [RCA], the solo piano's energy and air were not always fully reproduced; as a result lower midrange arpeggios were dynamically a bit muted, and the treble octaves slightly glassy.

Post review, I asked Marchisotto about the challenges of designing at this price point: "The keys are the midrange and midbass areas. We aim for a clear dimensional midrange with as much 'air' as we can get and a naturally dynamic, clean midbass. Many designs today compress the midbass in order to attain more apparent detail. I find these designs tiring to listen to, as they are not musical, regardless of the other sonic characteristics provided." In my view, mission accomplished -- a designer after my own listening biases.

The Nola Boxer exemplifies what a budget two-way compact should be. Easy to underestimate, it's the kind of ringer that doesn't telegraph its intentions until the bell sounds. That's when you realize you've placed your bet on a winner -- and that the competition had better duck and take cover.
---
SPECS & PRICING

Nola Boxer
Type: Two-way, dynamic driver, bass reflex loudspeaker
Driver Complement: 6.5" laminated cone, 1" silk dome
Frequency Response: 44Hz - 28kHz
Sensitivity: 90dB
Impedance: 8 ohms
Dimensions: 15.5" x 8" x 11.5"
Price: $1500

ACCENT SPEAKER TECHNOLOGY
1511 LINCOLN AVENUE
HOLBROOK, NY 11741
(631) 738-2540
nolaspeakers.com
---