CES 2007 Show Reports
---
CES / The Show 2007
Text and Photo: Garrett Hongo
Nola Loudspeakers, Carl Marchisotto
After several failed tries with different systems, I settled on my main demo track as the "Kyrie" of Mozart's "Mass in C Minor" (Virgin) performed by Le Concert d' Astrée, Louis Langrée conducting, with Natalie Dessay the soprano soloist. This is a period instrument performance with a large choir and soprano soloists (Veronique Gens sings too), giving me the entirety of my favorite music types--a dynamic yet precise orchestra, a choir that sings in complex chromaticisms, and (as with opera) a virtuosic singer. With this established, the Nola room was the first "good sound" I encountered and one of my top three in the show. It was also definitely the friendliest. Carl Marchisotto was there with his wife and two daughters. Spirited, welcoming, and expansive could describe either the family or the system. The speakers were his Viper Reference in gorgeous piano rosewood ($12,000) driven by the new Western Electric 972-A monoblock amps (eight 300b valves per @ $85,000 for the pair). The pre was the Conrad Johnson ART II.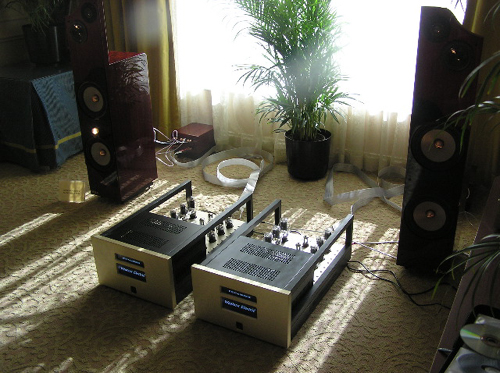 Source was the 4-box Lector Digidrive T.L. transport and Digocode 2.20 DAC (each with its own external power supply--thus, the four boxes). The speaker and interconnect cables were Nordost Valhalla, even to the flying leads from the outboard crossovers to the speaker boxes. "We're the only ones licensed to do this," Carl told me, pointing to the leads as I poked around the outboard crossovers. "It's all Nordost Valhalla hookup wire. Even inside the speakers."
---
CES 2007: Nola Viper Reference
Text and Photos: Don Shaulis

One room I enjoyed very much was the Nola room. The Nola Viper Reference speakers use the same bass (cast magnesium) and midrange (110mm, cast frame Alnico magnet) drivers as the Grand Reference. The tweeter is a twin Alnico magnet dipole metal dome. The midrange and tweeter operate as open baffles and gave a very open and spacious sound. The Viper Reference is an external crossover design.

The support system for the Viper Reference included a Lector 4 piece CD player, conrad-johnson ART II preamplifier, Western Electric 972-A mono block amplifiers, three pairs of Nola IP1 Isolation platforms, and Nordost Valhalla cables.

The Piano Rosewood Viper Reference speakers pictured are $12,000/pair. They are also available in piano black for $13,200/pair.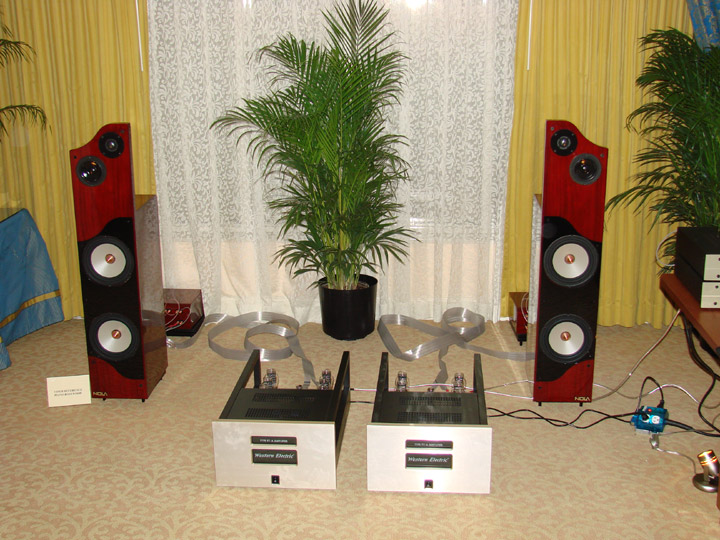 The Nola Viper IA at the Arcici Suspense Equipment Rack room: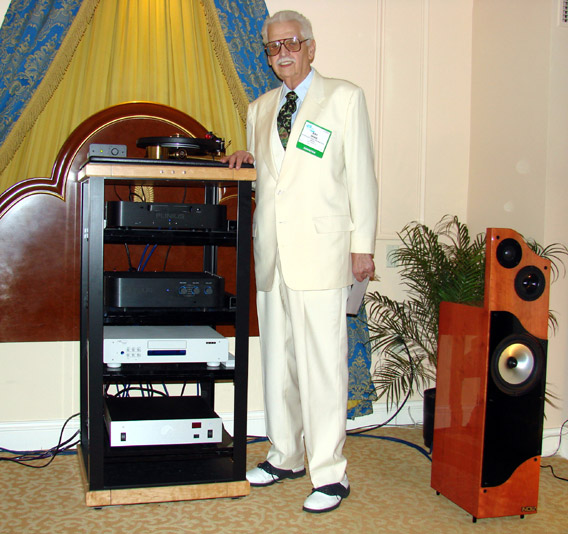 ---


CES 2007: Nola Viper IIA
Text and Photo: Dave and Carol Clark

Muse room with the Nola Viper IIA loudspeakers.
---


CES 2007: Nola Viper Reference
Text: Karl Lozier

At Carl Marchisotto's Nola by Accent Speaker Technology room, he was demonstrating the latest updates in the Viper series. It earns the simple title of Nola Reference. I am extremely familiar with Carl's loudspeakers, having reviewed a number of them and owning eight of them in my modest home theater system including a pair of his over-performing T-Bolt III subwoofers. His top model multi-tower Grand Reference retails for well over a hundred thousand dollars. He makes a forty nine thousand dollar model that attempts to give listeners a significant amount of the Grand Reference's sound performance. This superb, updated, smaller Reference model at twelve thousand dollars, in many aspects in a typical home listening room, may be his finest loudspeaker to date. He admitted this is what he uses at home for personal listening pleasure. As I found out in previous review sessions, this model also sings at its best with big and powerful-tubed amplifiers. Used at CES were western Electric 140-pound amplifiers driving the 80-pound loudspeakers. Playing Phillips CD# 442-609-2 version of Carnival of the Animals, resulted in my notes of "absolutely sublimely delicate natural sound quality". Out on a limb, but only a little bit, I hereby state that with appropriate electronics it should be the first loudspeaker to be considered when looking for the very best in sound reproduction in the range of $20,000 to $25,000. At $12,000/pair, they are one of the very best bargains in the entire audio kingdom. They are only 10 inches wide and attractively well finished at only 46 inches high. No negatives whatsoever were noticed during my addition. It must be noted that the sophisticated crossover network is placed behind each cabinet.
---

CES 2007: Nola Improves Fit and Finish of Viper Reference Speakers
Text and Photo: Jim Hannon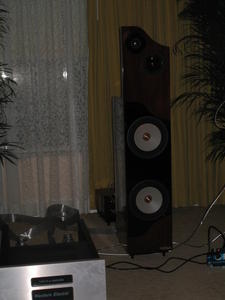 Jan 9 - An improved version of the Nola Viper Reference ($12,000) was producing "riveting" sound driven by a pair of 100 watt per channel Western Electric 97-A amplifiers. This speaker has a lot going for it: the ability to excel at portraying both micro and macro dynamics, a wide and deep soundstage with precise imaging, great transient speed and the ability to replicate fine details, etc. Better still, it has a relatively small footprint for such a big sound.

The improved version of the Nola Viper Reference not only looked a lot better in its piano rosewood finish than last year's entry, but the fit and finish was significantly better as well as the sonic balance. It uses the same twin cast-magnesium bass drivers and latest generation Alnico magnet midrange unit that are used in the Nola Grand Reference. This is a speaker that can literally reproduce an image that appears to be "holographic" and it sounded equally at home on all genres of music.



---


April/May 2007
Wayne Garcia's Best of Show
Biggest Surprise: For me it would be the performance of the $12,000 per pair Nola Viper Reference loudspeaker. Though many have touted the sound of Nolas over the years, I have been less than pleased with their sound at the last several shows, finding the bass way out of line with the rest of the frequency range. Of course, it probably didn't hurt that this year they were being driven by the new $85,000 (no, that is not a typo) Western Electric Model 97-A 300B-based tube monoblock amplifiers, but the Nolas sounded wonderfully open, easy, natural, and, especially when I was seated farther back, remarkably of a piece. Which once again shows how tricky it is to get decent sound at an audio show.
Jonathan Valin on Ultra-High-End Loudspeakers, Electronics, and Turntables
I'm not quite sure how to explain the Nola "comeback," but its $12k Viper Reference open-baffle floorstander sounded quite a bit more coherent and far more transparent than any of the large Nola speakers I've heard at previous shows. Midrange and treble timbres were strikingly natural, detail was good, liveliness was high. There was a bit of a channel imbalance that pulled vocalists slightly off-center and the thickish Nola bass will never be my fave; nonetheless, this was still the best sound I've heard from Nolas. And a very fine best, at that.