---
Consumer Electronics Show 2015
---

CES: Highlights from Venetian Floor 30 - Loudspeakers
by Chris Martens | January 16, 2015
In a reprise of its demonstration from last Fall's Rocky Mountain Audio Fest, Nola demonstrated its modestly sized Studio Grand Reference Gold speaker ($19,800/pair) once again at CES, and again the sonic results were sublime. The Studio Grand Reference Gold uses a new Nola-made ribbon tweeter, an open-back pistonic-type midrange driver, and an SEAS woofer -- an array that, visually speaking, looks almost too small to account for the big, beautiful, full-bodied, and very spacious sound the speaker in fact produces. In terms of achieving a sound highly reminiscent of the real thing, this relatively affordable Nola was one of our favorite demos at CES.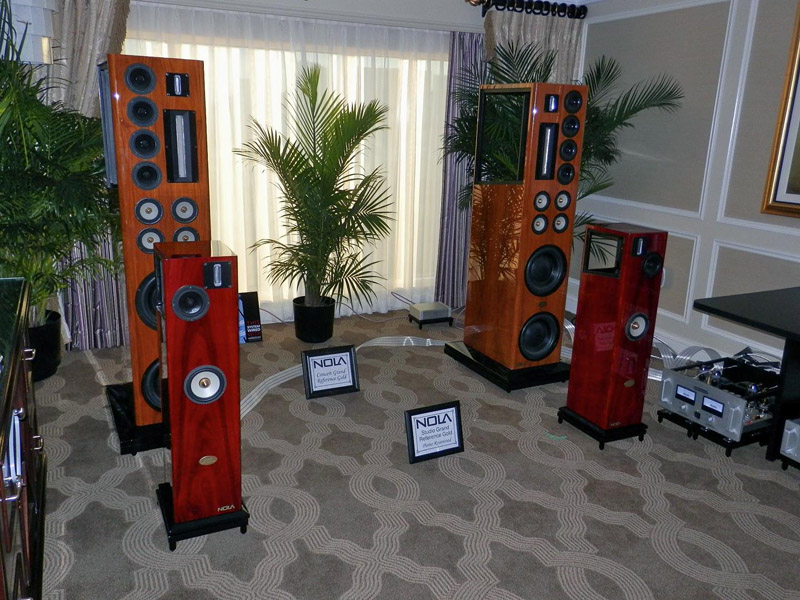 ---

NOLA Concert Grand Reference Gold wins Best Sound Award, 3 years in a row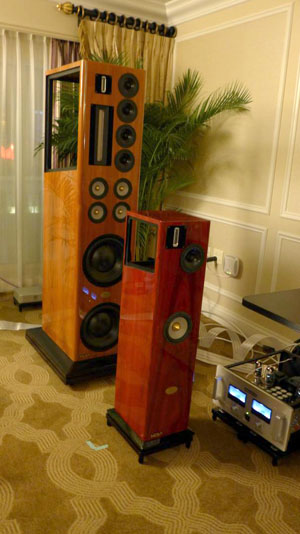 Best Sound (cost-no-object):
The imposing Nola Concert Grand Reference Gold loudspeakers driven by Audio Research Electronics connected by Nordost Odin cables, which was able to convey the grandeur and scale of a large orchestra. - Jim Hannon, The Absolute Sound
CES 2015: Loudspeakers and Electronics $20k and Up A third top contender was the $197k Nola Concert Grand Reference Gold multiway ribbon/cone hybrid, driven by ARC's Reference 75 monoblock amps, Reference 10 linestage, and Reference CD 9 DAC. Boasting an extremely good blend of disparate drivers, kickass bottom end, and superb transients, it sounded very open, very full-range, very high-energy, and very neutral to my ear. The Sheffield Drum Record (talk about chestnuts!) has seldom, if ever, sounded better than it sounded here. Ditto for the gypsy guitar, footstomping, and voices on that hoary old Spanish Flamenco LP that my friend Ray Andrews used to play all the time. Double-ditto for Hugh Maskela's "Coal Train." Yeah, ARC electronics aren't quite as fast as solid-state, and there may be a little bit of softening or restraint on the hardest transients. But fair is fair. This was one of the truly outstanding rooms, and Nola loudspeakers are right up there with the best, despite what you may have read elsewhere. - Jonathan Valin, Julie Mullins, The Absolute Sound.
CES 2015: Speakers $20,000 and Under Nola Studio Grand Reference Gold. Last year Nola introduced the Metro Reference Gold ($33,000), which, despite its small footprint, had thunderous bass. Now comes a smaller version for smaller rooms at the commensurately smaller price of $19,800. There is but one woofer instead of two, and the Studio is a 3-way rather than a 3.5-way design. These changes reduce low-end extension from 25Hz to a still-adequate 32Hz (although the new model wasn't going that low in the huge Nola room). In an off-hours audition, the Studio exhibited Nola's typical speed, openness, spookily realistic imaging, and convincing tonality. Designer Carl Marchisotto achieved this by using the very same drivers and enclosure design as the rest of the Reference Gold series -- the company's best stuff -- and leveraging economies of scale. We are the beneficiaries. - Alan Taffel, The Absolute Sound
---

Nola's Studio Grand Reference Gold
by Larry Greenhill | January 13, 2015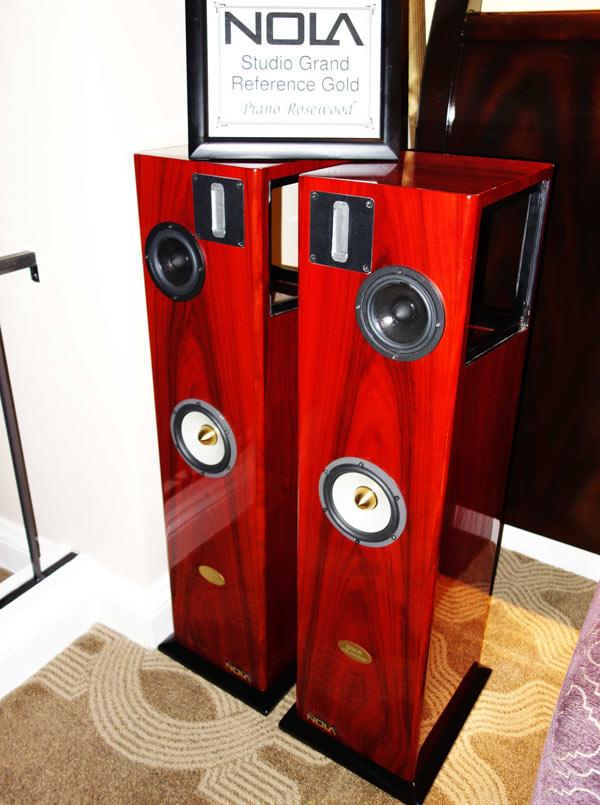 "Here is a recording that should never be played on this small speaker," said Nola's Carl Marchisotto, as he cued up Reference Recordings choral spectacular, John Rutter's Requiem, to play on Nola's new $19,800/pair Studio Grand Reference Gold loudspeaker. Finished in a vibrant red "true Piano Rosewood" veneer, the glistening 42" mini-tower played the full range of the recording's broad soundstage presentation of full chorus and organ at high SPL with hardly a trace of compression and no strain evident. The unit's 160mm bass driver had great bass extension, blending smoothly with the speaker's 120mm midrange and ribbon tweeter. Rated with a frequency range of 32Hz - 100kHz, the speaker presents an amplifier-friendly load of 6 ohms minimum and a voltage sensitivity of 86dB/V/m. Driven by a Audio Research Reference 75 amplifier, the speaker pumped out remarkably high and smooth levels of clean sound. "This speaker is like a small dog that doesn't know its limitations," smirked Carl, "it just keeps going."

---

CES 2015 · Big Systems, Big Sounds and Some Big Tubes
by Paul Bolin | January 31, 2015
Exceptional sound in a Nola room is as dependable as the sun's rise on the eastern horizon, and Carl Marchisotto did not disappoint, but when does he ever? Back from last year were the Concert Grand Gold speakers ($197,000/pair) fronting Carl's favorite Audio Research electronics: the Reference 10 line stage ($30,000) and CD8 digital player ($10,000) sitting on a table and a Reference 75 power amp ($9000) with the usual Nordost Odin wiring and Quantum power distribution/conditioning magic boxes. Once again the Concert Grand Gold showed itself to be one of the most formidable and consistently impressive, musically convincing speakers to be found anywhere, though the big surprise from Nola is in the second part of my report.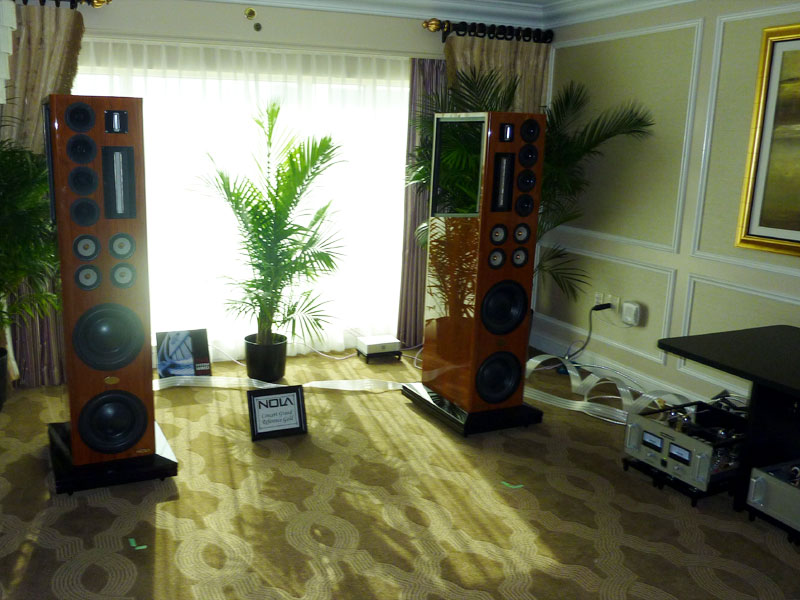 As mentioned in the first part of my report, Nola brought something more than the mighty Concert Grand Reference Gold speakers. CES saw the debut of its much smaller stablemate, the Studio Grand Reference Gold ($19,800/pair). The Studio Grand Reference Gold features one each of the Concert Grand's mid-woofers, midrange drivers and the same supertweeter in a brilliantly well-finished "piano cherry" cabinet that takes up just a whit more than one square foot of floor space.

Driven by the same single rack's worth of Audio Research electronics and Nordost wiring as previously described with the Concert Grand, the impact of this speaker was just as ear-opening. On a range of jazz recordings the Studio Grand delivered the same lively, natural sound of the Concert Grand, only on a somewhat smaller scale. Carl Marchisotto introduced the immense-sounding recording of John Rutter's "Oh Lord, Make Me an Instrument of Thy Peace" by saying that no one could reasonably expect such a small speaker to convincingly render such a large-scale piece of music, which the Studio Grand promptly did to a degree it had no business doing. The depth of field on the large choir was beautifully captured, voices sounded organic and unforced, and primary difference was, unsurprisingly, the lowest bass. What made me scratch my head was how that 4 1/2" woofer managed to deliver low bass in sufficient quantity and of sufficient quality to begin to underpin the piece with such solidity and spaciousness. Truly a quart in a pint pot and enough to send me away wondering just how Marchisotto has managed to bend the unforgiving laws of physics.



---