---
Consumer Electronics Show 2016
---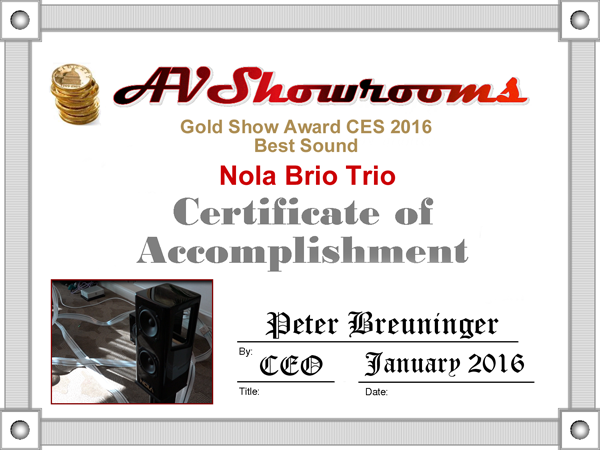 The new Brio Trio 3-piece system wins Best Sound Gold Award at CES 2016. Considering a price of only $2700, this is nothing short of amazing. AV Showrooms full video review
---

CES 2016
by Chris Martens
Nola design chief Carl Marchisotto is perhaps best known for his costly and physically imposing tower-type loudspeakers, but a passion of his has long been to bring the famous Nola sound to a much wider audience through a compact, scaled-back (but pointedly not scaled 'down'), and accessibly-priced speaker system. That system turns out to be the new three-piece, satellite/subwoofer Brio Trio system, which consists of a pair of 5&frac12-inch x 5&frac12-inch x 12-inch, 1½-way, quasi-dipolar satellite speakers and a matching Brio subwoofer with an 8-inch woofer, a sealed enclosure, and a 250-watt Class A/B (not Class D) amplifier. The result is very simple and affordable three-piece system that, in due Nola fashion, sounds much more muscular, expansive, and musically evocative than it has any right to do for its size or price.
---

AV Showrooms reviewed the Metro Grand Reference Gold at CES 2016, saying "This is the best these CDs have ever sounded." Full Review
---

"Nola Metro Grand Reference Gold wins the Jimmy Award for most holographic loudspeaker of all time."
---

Carl Marchisotto of Nola showed his $33k Metro Grand Reference Gold open-backed ribbon/cone multiway, driven by VAC electronics (including the 200iQ amplifier). As usual with Nola, the sound was lovely, sweet, and spacious -- absolutely terrific on Patricia Barber's vocals from Cafe Blue - Jon Valin