---
Rocky Mountain Audio Fest 2014
---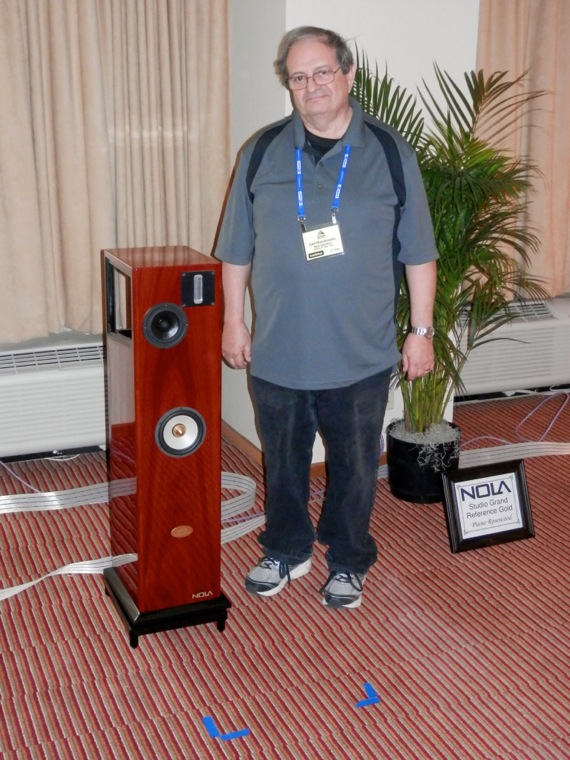 The Studio Grand Reference Gold is a relatively compact three-way design that uses a new-for-Nola ribbon-type tweeter, an open-back and therefore dipolar piston-type midrange driver, and a small but very exotic SEAS-made woofer.
When driven by Audio Research Corporation electronics, and in particular the astonishingly good, Reference 75 valve-type power amplifier, the Nolas produced a sound that was flat out enchanting, cast big, deep soundstages, serving up excellent resolution of low-level detail (especially in the high end, where the new ribbon tweeter is exquisite), and unexpectedly deep and full-bodied bass.
To be clear, then, the Nola/ARC system was not cheap by any stretch of the imagination, yet it did offer really impressive value for money, giving listeners a big taste of what a mid-six-figure audio system might have to offer, but for a fraction of that sum.
---

RMAF 2014: More From Mr. A.
By John Atkinson | Posted: Oct 18, 2014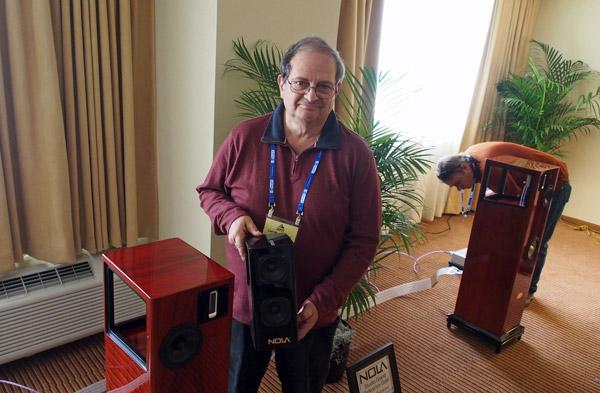 Nola's Carl Marchisotto was demonstrating the Studio Grand Reference Gold floorstanders ($19,800/pair) when I entered his second-floor room. This new speakers is similar in concept to the Metro Grand Reference Gold ($33,000/pair) that I review in our November issue but has just one of the reflex-loaded SEAS magnesium-cone/alnico-motor woofers rather than two.
But Carl wanted me to hear the new Nola Brio desktop ($995/pair), which he is holding in the photo and describes as a one-and-a-half-way design. The Brio has two 3.5" cone drivers, one of which is reflex-loaded, the other open-baffle. On Elvis Presley's "Are You Lonesome Tonight?" the Brios in free space produced a surprisingly big sound, though with some midrange emphasis.
---

Rocky Mountain Audio Fest 2014
By Linda and James Darby
Carl Marshisotto and NOLA is the undisputed master of open baffle speaker design. We have reviewed many of his models, most being worlds first reviews, and have always been impressed with the clarity, bass response and the most spacious, detailed and lifelike soundstages of any speaker. They just sound like real, live music. Live recordings of jazz, singers and orchestras are uncanny in their no boundaries presentation. They also make studio recordings sound much more like live recordings. Always extremely musical.

Carl's Studio Grand Reference Gold, debuting at the show, is no exception. In fact, it is a progression on his previous designs. They incorporate all of the above seamlessly. We could talk specs, but suffice it to say that this is one of the very few rooms where we had to tear ourselves away from what we were experiencing. Outstanding and easily one of the best in Denver. The speakers employ alnico magnet woofers, alnico dipole midranges and true ribbon tweeters.

We should add that in glowing piano gloss rosewood, it is also one of the most gorgeous speakers you have to see to appreciate.

Response: 32Hz to 100kHz
MSRP:$19,800/pair

After hearing many more expensive speakers and being familiar with Nola's other speakers and their prices, we were very surprised that these didn't cost significantly more. We're just saying.... in the under $20,000 category, these are real contenders on the verge of a KO.
In addition, we saw these little stand mounts sitting on a table on the way out so we turned around and asked Carl about them. He said he wanted us to listen to them, so he moved the big speakers and set up Brios, surprisingly in the big room, almost as far apart as the floor standers. He played Elvis Presley's "Are You Lonesome Tonight?". Carl doesn't know this, but Elvis plays a big part in our marriage! I met Linda and her birthday party on the night Elvis died. The party happened to be at the home of a minister who was world-famous in his own right, in fact it was he who conducted Elvis's funeral. So, as Linda and I were the only ones invited to stay after the party, we watched the network coverage of Elvis's death interspersed with many personal anecdotes about his life from the minister and his family. It was quite a memorable night.

While the Brio's brought back those memories, they also amazed us with their lifelike presentation despite being in a very large room. Anyone who believes Elvis is still alive, hearing that demo would add fuel to the fire. True, there wasn't overwhelming bass or limitless upper extension, but dang if it didn't seem like Elvis was standing right in front of us. Remarkable in that room and at that price - under $1000. That is "Stereo for Cheap Bastards" territory. If you're not familiar, S4CB is our featured reviews of equipment $1000 and under.

Carl told us that the small fries are a one-and-a-half-way design with two 3.5" drivers, one being open-baffle of course, while the other is reflex-loaded.

Simply amazing.
---
Rocky Mountain Audio Fest 2014 · Hot Product
By Brent Butterworth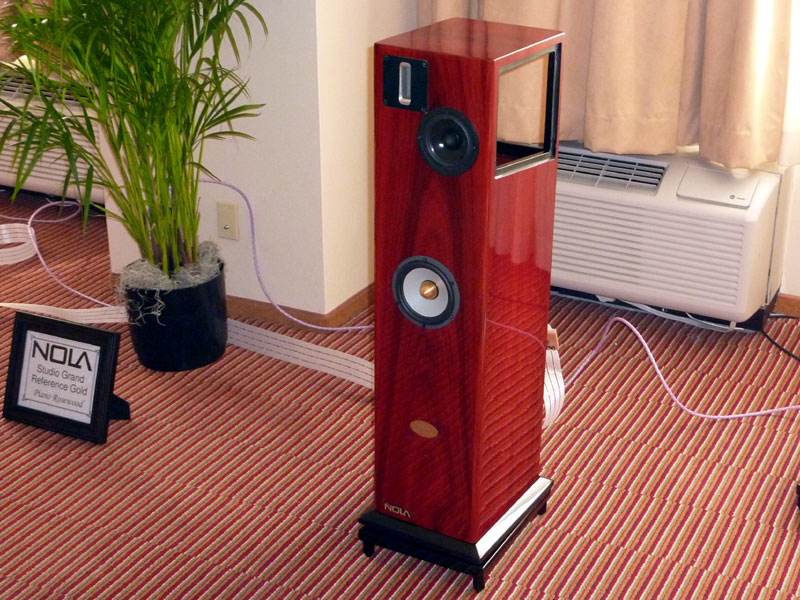 The latest -- and smallest floorstanding -- speaker in Nola's Gold series is the Studio Grand Reference Gold ($19,800/pair). Like the other speakers in the series, this compact floorstander uses "exotic" components, including an Alnico magnesium woofer, an Alnico dipole midrange supported by the speakers...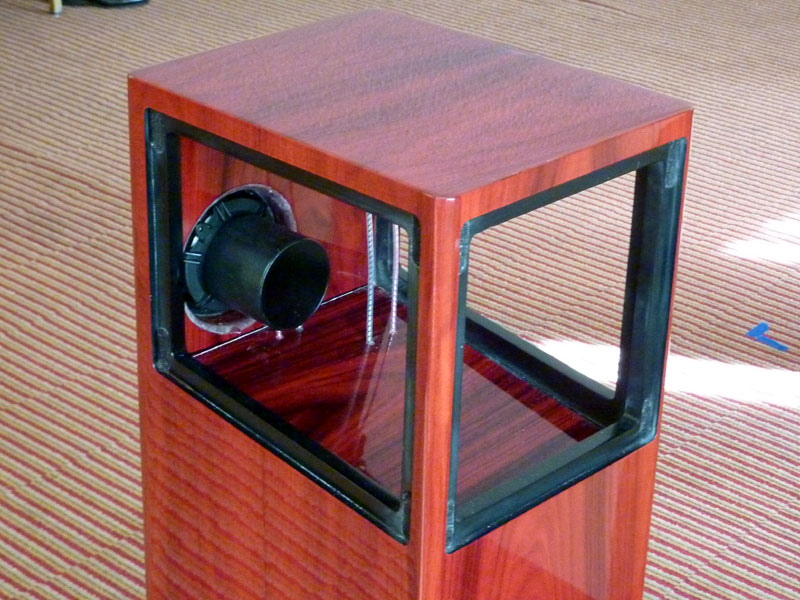 ...open-baffle design, and a true ribbon tweeter, along with Nordost internal wire. Like its bigger brothers, the Studio Grand Reference Gold sounded supple -- the opposite of hard and exacting -- conveying great midrange presence, treble air and ambience, a very seductive combination. All of this comes in a mid-sized package that will be ideal for smaller rooms, even though the speaker ably filled out a large one in Denver.
We've liked many recent Nola speakers, which makes it difficult to single one out, but because of its price, the Studio Grand Reference Gold may be the greatest sonic value of them all.
---

RMAF 2014: Stereo Speakers
By Brent Butterworth
Nola speaker designer Carl Marchisotto has built his career around designing speakers with midrange and tweeter drivers that use no enclosure. Thus, they don't have the sonic colorations that enclosures add, and because they emit sound forward and backward, they create a more spacious soundstage. This is the new Studio Grand Reference Gold, a smaller tower speaker for the Reference Gold line. They're pricey at $19,800/pair, but the room was packed and the soundstage seemed just as enveloping as with the bigger Nolas I've heard.
---

Rocky Mountain Audio Fest 2014 Coverage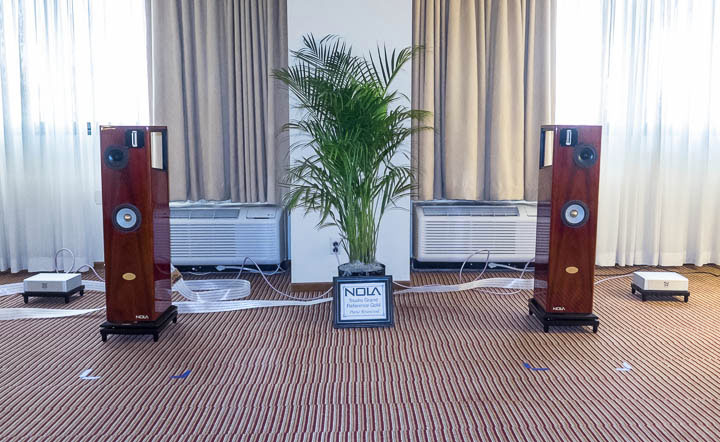 Nola took a double room to display its brand new Studio Grand Reference Gold loudspeakers ($19,800/pair). Set up along the long wall, though spaced fairly close together, the Nolas threw an very wide and open soundstage. Stravinskyís LíHistoire du Soldat revealed a very nice violin tone and dynamic percussion, with resounding bass belying the rather small 6.5" bass driver. On hand as usual were the Audio Research Reference 10 preamplifier ($30,000), CD8 CD player ($8000) and Reference 75 power amplifier ($9000) strung together with Nordost Valhalla cables.
---

Nola Speakers - RMAF 2014
October 13, 2014 by Michael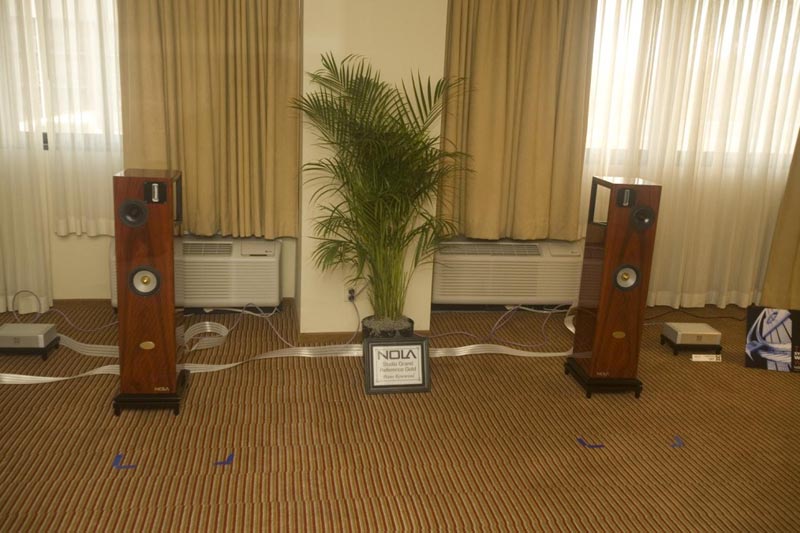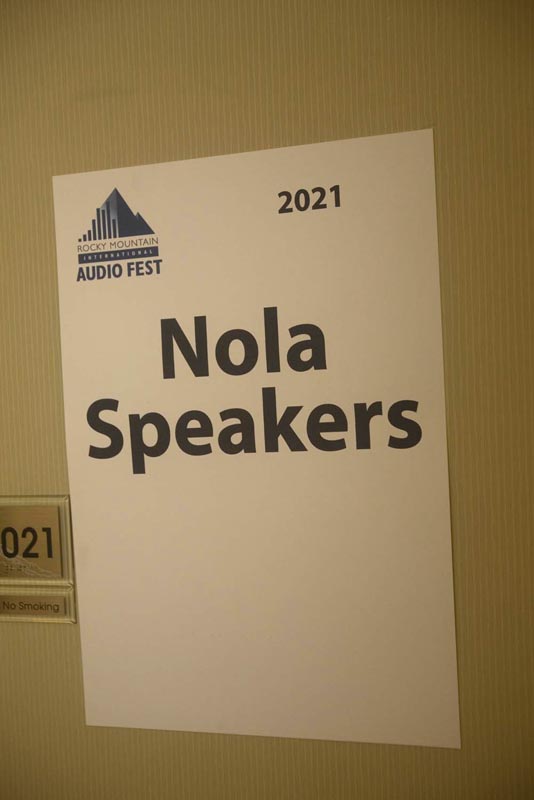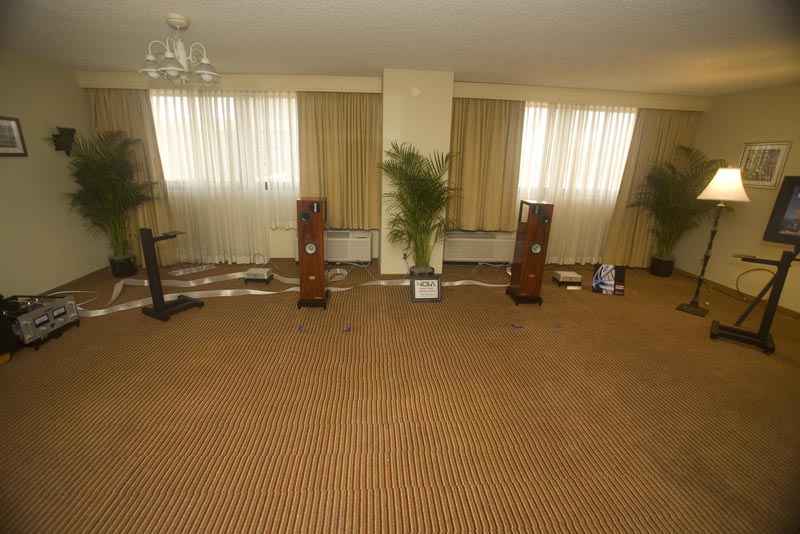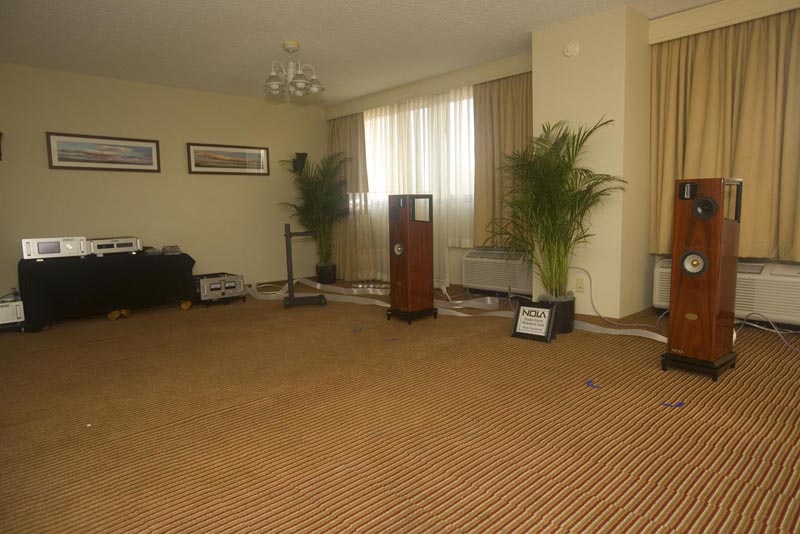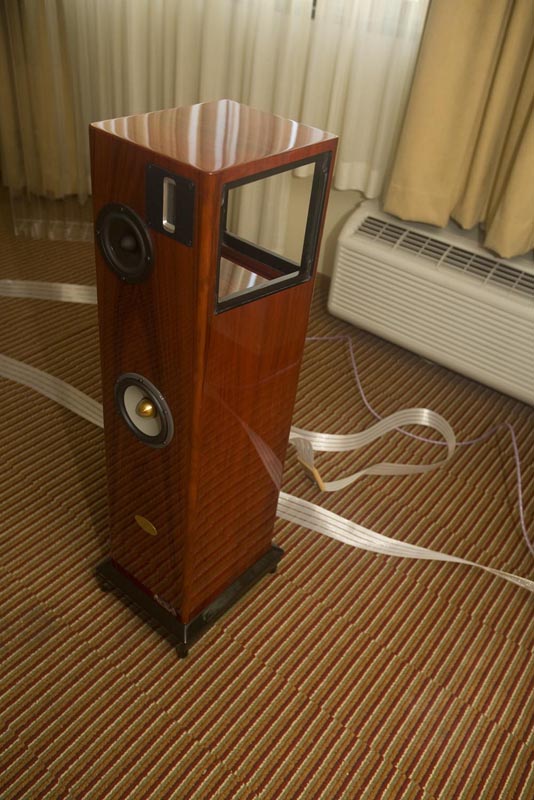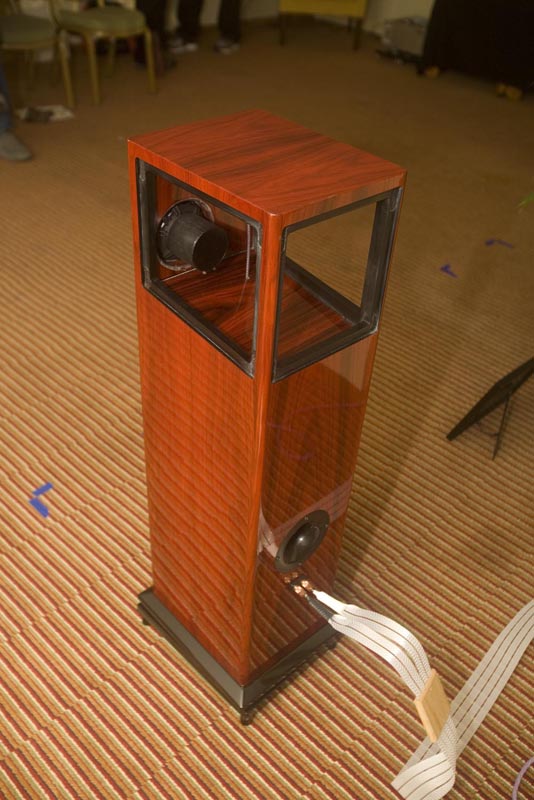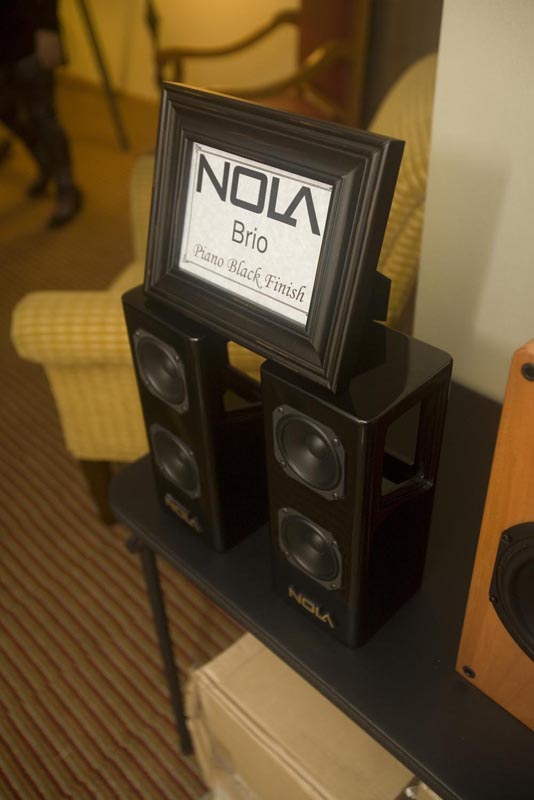 ---