---
Rocky Mountain Audio Fest 2015
---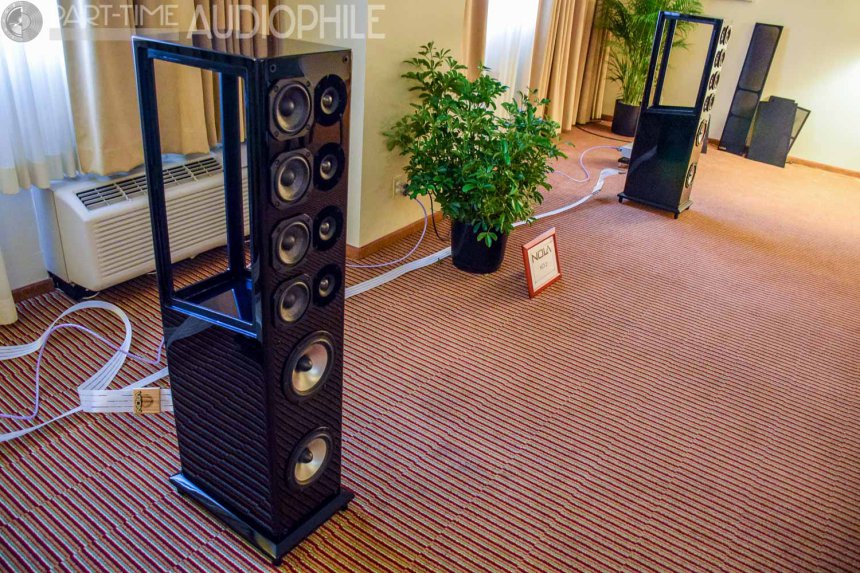 RMAF 2015: Nola's knockout KO2
by John Stancavage | Oct 25, 2015

If Carl Marchisotto wasn't busy designing speakers and whipping them into shape, I could picture him in the corner of a boxing ring, towel around his neck, coaching a few especially talented boxers.

Instead, Marchisotto runs Accent Speaker Technology Ltd., where he lets his Nola speakers do the swinging. And they, like all the greats in the "sweet science," mix jaw-dropping impact with delicate footwork, speed and agility.

He chose RMAF 2015 for his latest matchup, the aptly named KO2 versus an entire second floor of contenders at the Marriott Denver Tech Center. And as I passed through, it seemed the new speaker was scoring almost at will.

The KO2 ($12,000 a pair) was showing off, in fact, on Marchisotto's usual training soundtrack of percussion-oriented tunes and piano music. You know how some systems seem to sound great, live even, when you're still outside the door? The KO2 has that rare ability. And, at RMAF, the KO2's lifelike transients, bass slam and overall tonal accuracy were pulling in a steady stream of audio fans.

Once inside the midsize room, these audiophiles found themselves relentlessly pursued by great sound -- almost anywhere they moved, even corners -- as the open-back cabinet design produced an impressive soundstage.

Several music fans were picking themselves up off the floor after hearing the precise "thwack" of rock drums from the KO2s, which then was followed with lightning horn jabs and a frisky, well-integrated bass line.

The KO2's striking resolution was produced partly by eight new woven carbon fiber mid-range drivers. They featured edge-wound Kapton voice coils and cast-aluminum frames. All three crossover boards have been upgraded and the low-frequency chambers have been re-tuned.

Just outside the ring was an Audio Research CD8 disc player ($9,000), VAC 160 amp ($16,000) and various cables by Nordost (which also is the brand of wire used in critical areas internally).

One of the tracks being spun was by Patricia Barber, who I had just heard live recently. The KO2 accurately captured her muscular attack on the piano, while still doing full justice to her vocals. I asked Marchisotto if percussion and piano-heavy music was something he used a lot when "voicing" his speakers.

"What you hear there is a result of us getting everything in the speaker right, rather than trying to sound good in those frequencies," he said, looking proudly at his creations.

Marchisotto, echoing a trend in the high-end game, builds his speakers in the USA -- New York, to be specific. I was lucky the KO2s seemed to get better with each round, since at times I leaned close enough with my camera for them to land a punch. Fans of deep soundstaging and wide dynamic range should plan on scheduling a bout between the Nolas and their own current champs. I don't expect the KO2s will suffer too many losses.



---

Most Significant Product Introductions
NOLA KO 2
by Andrew Quint | Oct 08, 2015
NOLA is still very much a family operation with Carl Marchisotto working alongside his wife Marilyn and younger daughter Kristen to show off their latest loudspeaker, the $12,000 KO 2. The speaker continues elements familiar to those who have followed Marchisotto's designs over the years: an open-baffle dipole design mated with a multi-driver bass enclosure. The KO2 has eight new woven carbon midrange drivers with edge-wound Kapton voice coils and cast aluminum frames. All three of the crossovers have been modified, the bass chamber has been retuned, and Nordost wire has been employed more liberally throughout the speaker. The KO 2s sounded vivid and involving, with perfect scaling of solo instruments in the Shostakovich symphony. An organ recording selected by Marchisotto impressed with powerful bass lacking any overhang -- subwoofers need not apply.

---
Jason's First Day at RMAF
By Jason Victor Serinus | Posted: Oct 4, 2015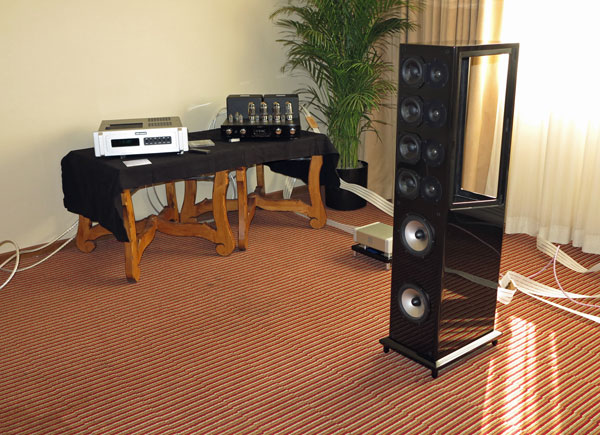 Nola has now completed the upgrading of its Boxer line with the release of the Nola KO 2 open-baffle loudspeaker ($12,000/pair). With a response of 30Hz-28kHz, a sensitivity of 90dB, and an 8 ohm average impedance (4 ohms minimum), the speaker employs eight new woven carbon-fiber midrange drivers with edge-wound Kapton voice-coils and cast-aluminum frames. Nordost internal monofilament silver wire is utilized in critical locations, low frequency chambers have been retuned, and all crossover boards are upgraded.

In a system that also included a VACi se 160 amplifier ($16,000), Audio Research CD8 disc player ($9000), and Nordost Odin 1 cabling, the system produced beautiful sound. The Mercury Living Presence CD issue of the scherzo from Dorati's Tchaikovsky Symphony 4 sounded especially smooth and fine, with lovely strings. There was a bit of bass boom, but the sound was very open, and dynamic range was impressively wide. Definitely a thumbs-up system.



---
Rocky Mountain Audio Fest: The Best of the Best
By Hi-Fi+ Staff | Posted: Oct 12, 2015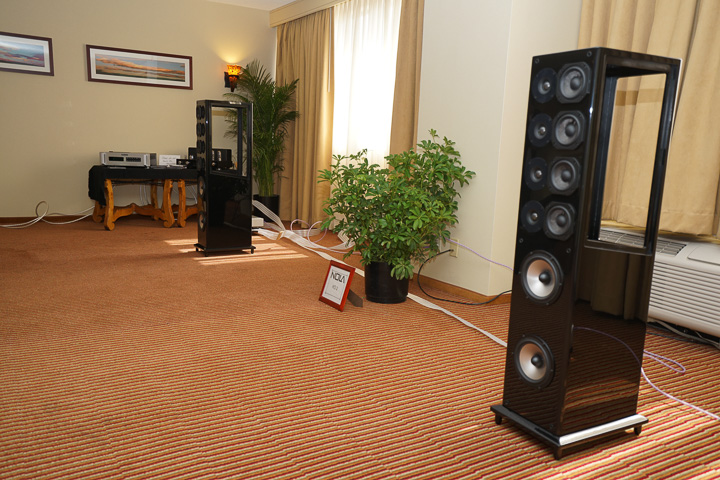 Nola stepped up to the plate and came out swinging with their new $12,000 KO2 floorstander, which delivered a huge acoustic space and serious dynamic impact, driven by an ARC Ref 8 Cd player and VAC Sigma 160i integrated amp.



---
Two-Channel Audio Discoveries from RMAF 2015
By Chris Martens | Posted: Oct 19, 2015

Carl Marchisotto of Nola Loudspeakers always puts together a fine RMAF demo and this year's presentation was no exception. Highlighted in the demo was Nola's new KO2 floorstander ($12,000), which is a significantly revised version of the firm's original KO loudspeaker.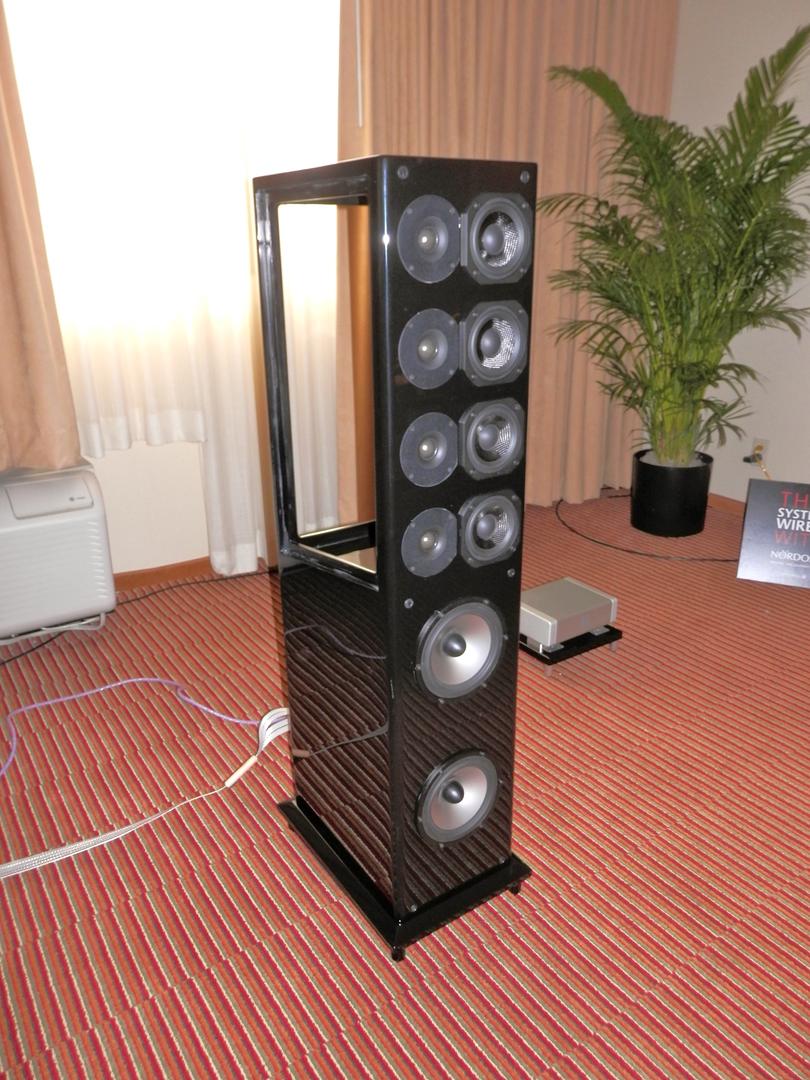 Nola's new KO2 loudspeaker is simply
delightful --- and quite the overachiever

The KO, and now the KO2, stands as a sort of transitional model in the Nola range -- a model placed at the very top of the firm's 'Boxer' range of speakers, but that is, both conceptually and sonically, quite close to the firm's more costly and exotic 'Reference Gold'-series speakers. Setting the KO2 apart from the original KO are a series of modest changes that together have a big impact on the speaker's sound. Among these changes are new carbon fibre midrange drivers, revised crossover networks, re-tuned low frequency chambers, and more extensive use of Nordost monofilament silver internal wiring. The result is a more open, nuanced, and expansive sound -- areas where the original KO was already very good.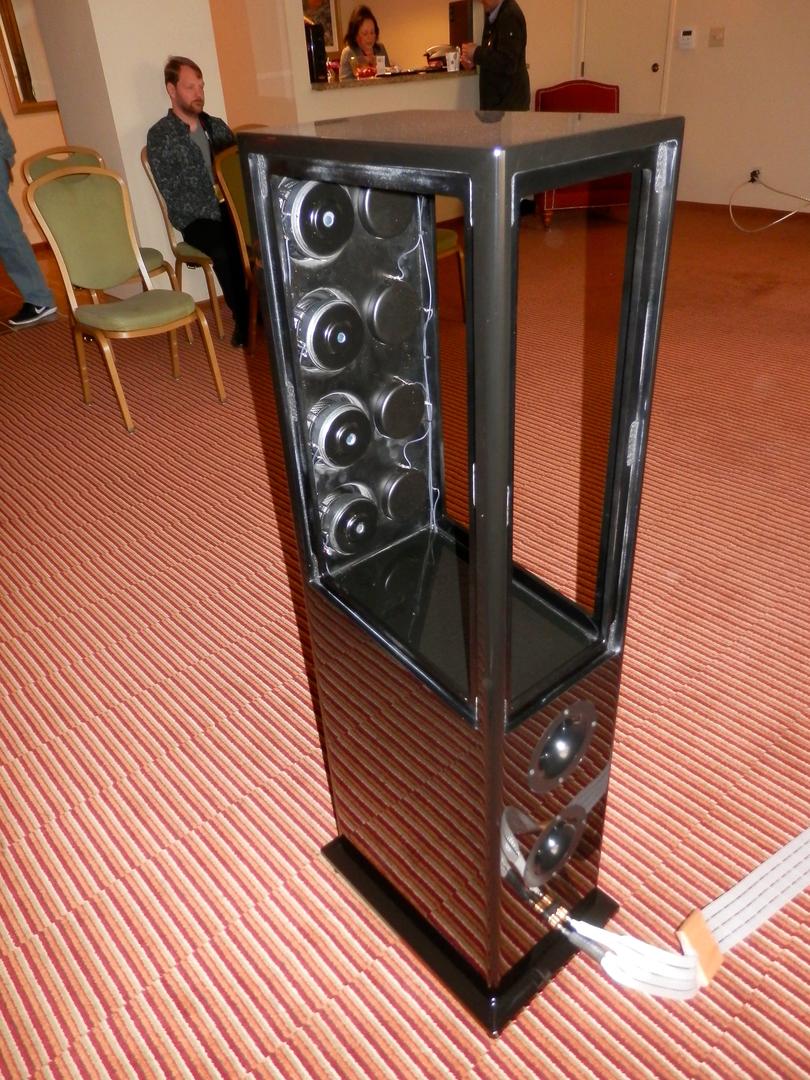 Rear view of the Nola KO2

Nola's system, fed by an Audio Research CD Player and a VAC valve-type integrated amplifier was one of the two or three best I heard at the show.



---

Rocky Mountain Audio Fest 2015 Show Report
By Carlo Lo Raso
The Nola KO 2 open baffle loudspeakers sounded incredibly spacious on the jazz and vocal tracks that were being played. Price of admission: $12,000.00.



---